Despite what you might believe I'm not quite old enough to remember 70s gay porn or even the 80s. Nevertheless, that's why I love hardcore down and dirty action like this classic release?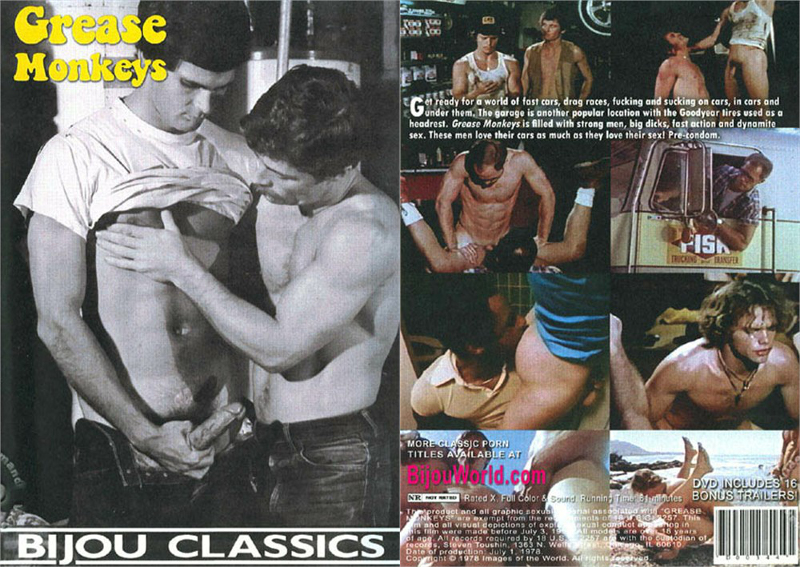 Cast list: Derrick Stanton, Kip Noll, Lee Marlin, Nick Rodgers, Noel Scott, Robert Shaw, Roger Jones, Stanley Beck, Tom Ross
Studio: Bijou Classics
With the risk of repeating myself, they don't make porn like they used to.
When I check out classics like Grease Monkeys and other awesome 80s or even 70s gay bareback porn movies, I'm always surprised by how horny and raunchy they are.
Have you noticed that things are very different now?
Even if we're just talking about the depictions of masculinity everything has changed. Back then guys got dirty and horny in interesting places like garages and construction sites. These days it's the gym and the sauna. lol
---
---
I'm not bitching about modern porn, there's some hot stuff out there (obviously, or I wouldn't be sharing it here on the blog). However, sometimes I wish producers were a little more traditional with their men and locations.
It seems everything is filmed in a studio these days, but there are awesome locations out there.
The 70s gay porn classic Grease Monkeys is all about the rough and horny men who go from tinkering with an engine to tinkering with each other's big meaty cocks in all kinds of hot settings.
They're dirty, horny and loaded with oil, and they'll hook up with their car-loving buddies in the garage, in the rest room, the beach or anywhere else!
It's an hour and twenty minute adventure with some seriously hot guys, awesome cocks, fuckable holes and great cum loads, all filmed authentically and with real passion in California.
Check out some stills and click here to stream the full movie.
Read my TLA Gay Unlimited review if you don't know why this is one of the best gay porn streaming services in the world. You'll love it even more if you're into classics like this!