I'm continuing to feed my addiction to vintage gay bareback porn. This time my sexual hunger is satisfied with an awesome release from way back in the 80s. Full Load is packed with awesome guys in great themes and settings!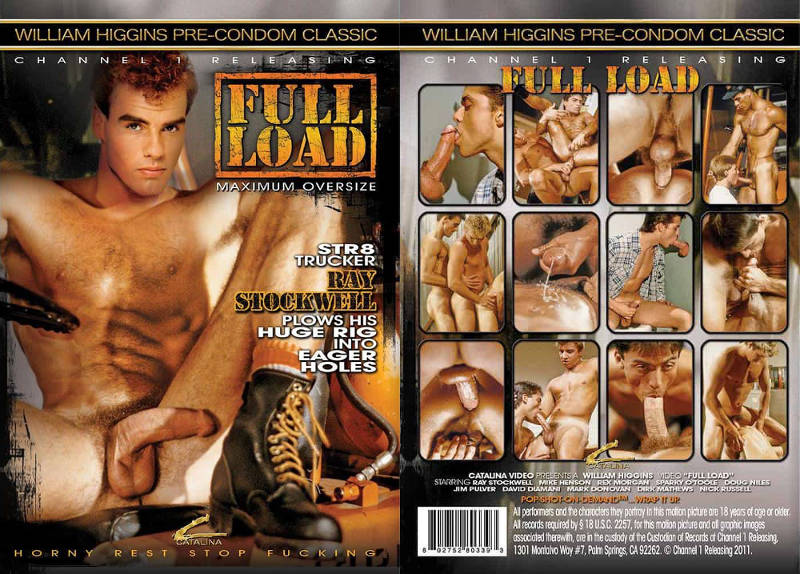 Cast list: Ray Stockwell, Rex Morgan, Mike Henson, Jim Pulver, Mark Donovan, Don Larson, David Diamani, Nick Russell, Dirk Matthews, Doug Niles
Studio: Catalina Video
It needs to be said that while there are some studios in the gay porn business that really stand out. Catalina Video is one of the best. Especially when it comes to delivering the most gorgeous jocks and daddies in vintage gay bareback pre-condom fun.
Full Load, from director John Travis, is a trucker-themed tale, unlike most others.
The horny trucker theme is pretty common in gay porn from back in the 70s and 80s. However, these truckers aren't like any you're gonna find at most rest stops.
These guys are fucking gorgeous. They're all handsome, muscular, jock-type dudes and daddies, with big dicks and hungry appetites.
---
---
Almost all of the guys in this vintage gay bareback movie look like they belong in frat house-themed porn or sportsmen-style action. The combination of gorgeous guys with the rough and ready theme of truckers who need to get their cum splashing is a hot prospect. However unreal it seems. lol
Don't get me wrong, I love the diversity of modern porn. Yet, as a fan of the clean-cut American style of decades past, I can't help but love these classic trucker releases. There's just something special about working-class gay cruising porn movies.
We get five scenes of masculine and butch pleasure. Smooth and fit jocks, hot younger twinks, and handsomely rugged daddies sucking meat and pounding raw holes in some real horny settings.
Whether these guys are gobbling dick and fucking ass in rest stop bathrooms, offices, or loading docks, the action is awesome. Not to mention (but, I will) Full Load is excellently shot. All in all, many current gay porn studios could take some notes from days gone behind the camera lens.
I know I've said this before but vintage gay bareback porn like this is so different from the brightly lit 20-minute scenes on cardboard sets we get today.
I kind of miss it.
Enjoy some of the screen grabs from this awesome movie. Then click here to stream it at TLA Gay Unlimited right now with a discount membership.
It's the best gay porn streaming service in the world. Signup today and create your personal adult Roku channel! Click here to find out more if you need more convincing.