MY RATING: 10/10
Yep, this gets our top score! Then again this is Top Rated Gay Porn™ so you can expect a lot of high marks for what we share here! In this gay porn blog post update, we're enjoying a feast of cock worship. "Disrupt Your Day" with some seriously hot men getting their dicks slurped and holes licked by another dude. Many "serviced" for the first time! 🙂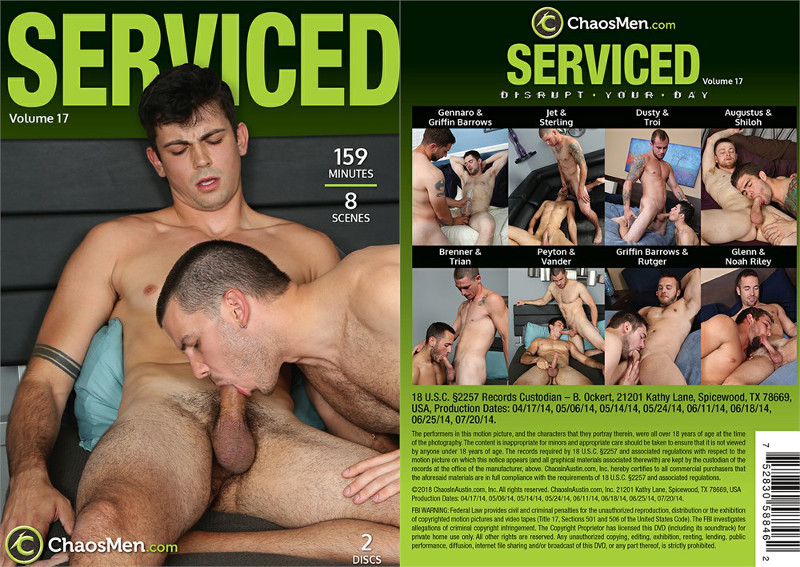 Full cast list: Augustus, Brenner Bolton, Dusty (II), Gennaro, Glenn, Griffin Barrows, Jet, Noah Riley, Peyton, Rutger, Shiloh, Sterling, Trian, Troi, Vander
Studio: ChaosMen
I guess there might be some of you out there who don't know what their "Serviced" videos are about? So let me fill you in (so to speak).
ChaosMen appears to be another one of those studios where they like to get new horny straight and bisexual/bi-curious guys in for a jack off debut. Then they might bring them back for a massage or a servicing such as this. If you're into fetish, there are several niche themes in the ChaosMen portfolio. However, one of the best is definitely cock worship.
If you're unfamiliar with this fetish, that's OK. Just lay back, then let another dude stroke and suck your manhood to orgasm. Some of the newbies just relax and let it happen, others go in for their first taste of dick. Sounds pretty good, huh?
One thing is clear, most of the performers cannot contain their enjoyment getting their dicks wet in another guy's mouth. Soon they are grabbing dick and returning the fellatio favor, slurping another guy's meat for the first time.
You get all variations of that kind of fun in this compilation, indeed. There is one thing to be certain in each and every one of these eight scenes. Properly serviced cocks spewing loads of high fructose porn syrup!
Do I really need to do any more to convince you to click and watch this one? Who doesn't love seeing horny guys exploring like this?
If you still don't know why TLA Gay Unlimited is so awesome you should read our review of it.