MY RATING: 10/10
Yes, this just got my highest rating of 10/10! Although you might not agree with my assessment, I think plenty of you guys are gonna be clicking through to watch these handsome European jock boys sharing their cocks in Uncut Fun. It's a new arrival at TLA Gay Unlimited that's gonna have a lot of you spooging with these boys.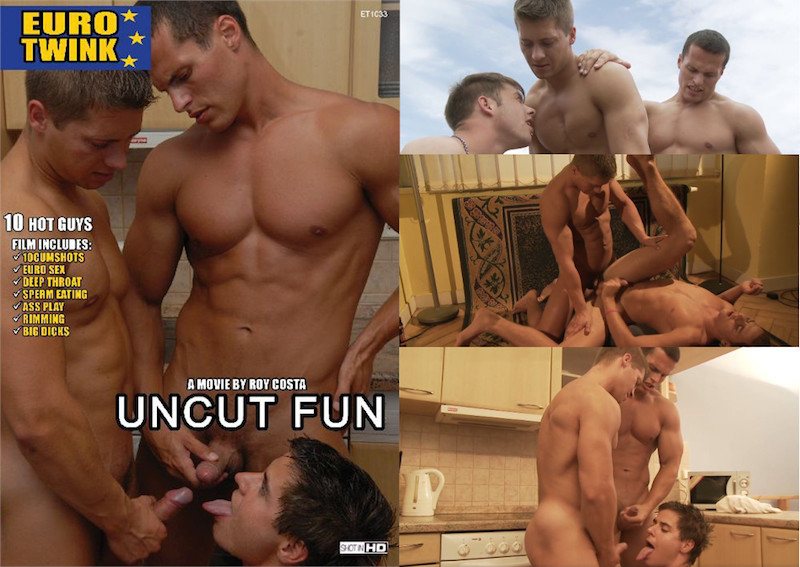 I need to start this by asking something that's gonna sound a little stupid… was the definition of Twink changed while I wasn't looking? This new release is from the Euro Twink studio, but almost none of these guys are what I would consider twinks, far from it in fact. I mean, I don't mean to bitch about it, I fucking love hot and hunky young Euro studs with muscles and stiff dicks, but I can't help but think they might need to just rename for accuracy's sake. lol
This release is so new I found it impossible to find a back cover for the pic above, so I had to make my own. Ooh,       aah, (insert serious Photoshop skills here)! 😉
It doesn't even have a cast list with it, but while I would love to be able to name all the guys sucking those dongs and sliding their raw dicks into their friends. Do you really need names to enjoy it? I'm guessing not.
You get almost two hours of hardcore uncut cock being put to great use by some truly gorgeous European guys in this movie, in various locations. There's outdoor fucking, two threesomes, and a whole lot of cum being pumped onto handsome faces.
The most important thing about this gay porn movie is that there's so much uncut cock being enjoyed, loads of prepuce being slid back, plenty of extra skin to lick and tug and play with. As an uncut guy who loves uncut cocks too, every scene in this one had me leaking pre throughout and several loads have been shot in appreciation of these guys. 🙂
Check out some screen grabs and click through for the full movie at TLA Unlimited, and if you still don't know why they're our favorite site to promote then you need to read our review. Honestly, TLA Gay is like a massive gay porn tube site, only with actual viewable porn longer than five (5) minutes and not apparently filmed using a potato. lol