MY RATING: 9/10
I put it to you that there is no such thing as an awkward boner between buddies. Just a lack of dedication to your friends and their engorged dicks. I was checking out this new threesome fuck today and I knew you guys would appreciate it. So, here you go! Enjoy some pics and get the link to the video at the bottom.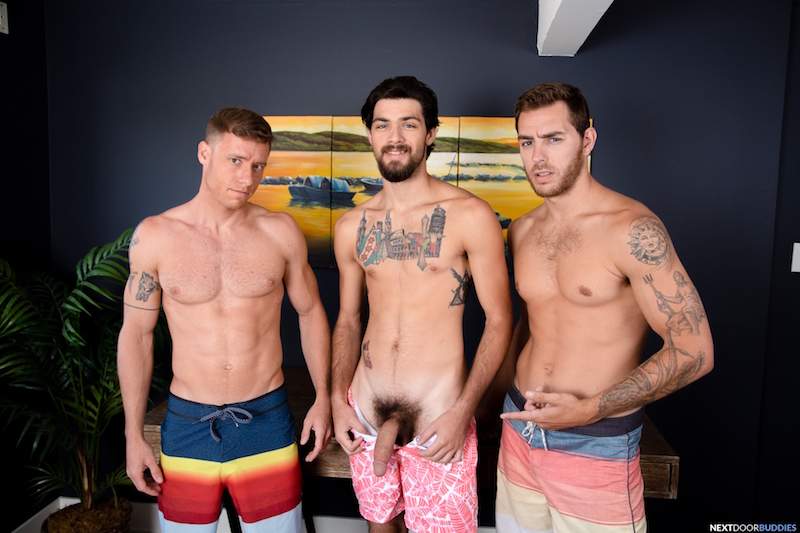 Yes, people say there's such a thing as an awkward boner. However, that's only when you're at the doctor's office or maybe in a meeting with your boss (been there, done that, my last boss was a fucking hottie). It's definitely not awkward when you get hard in front of a couple of your buddies like Leeroy Jones does in this new video. He's trying to hide his big bulging cock from Justin Matthews and Carter Woods while the three get ready for the pool party, but they soon make it clear to him that they have a remedy to help him overcome the bulging problem.
See, this is what it should be like between buddies! When one of you gets a stiff one, your bros should be there to help out with it. That is exactly what Justin and Carter do when they lead him to the bedroom to share his meaty fuckstick between them.
Soon enough he's plowing both their asses, jabbing his impressive piece of rigid meat in and out of his friends. Each of their own cocks proudly bobbing and throbbing with delight, until all three are splashing out their hot loads together and bringing their unexpected threesome to a sticky end.
See, guys, there's no such thing as an awkward boner between friends, you just have the wrong friends! 🙂
Enjoy some of the pics, click through for the video.be ready to stroke along to these seriously hot guys. Now if you don't mind I think I need to go and find some new buddies. Preferably one with a pool! lol