This is a scorching start to a bareback boy threesome video from BoyFun! A voyeur invites himself to the cock loving fun!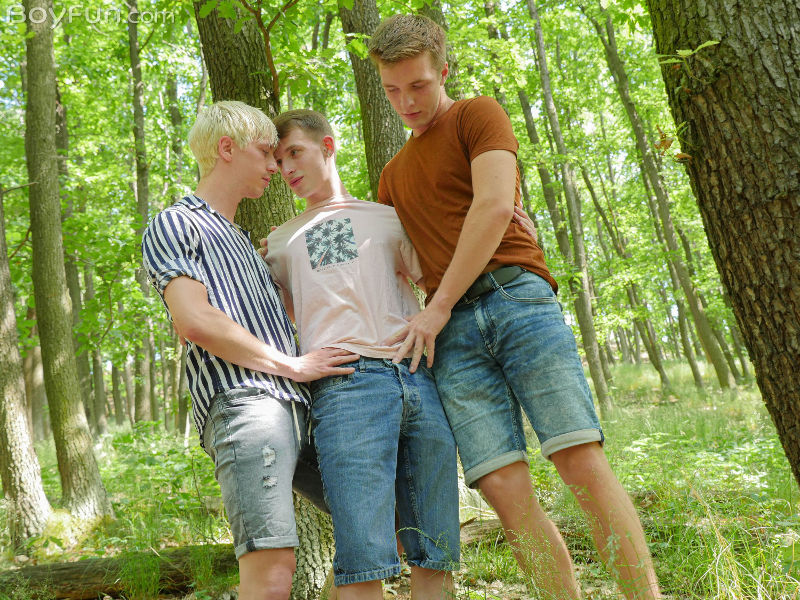 Hands up if you love to go cruising.
I can't see you, but I'm guessing a few of you have one hand up right now and the other on your dick. lol
I have a few places I like to go now and then, but it's been a while.
I'd probably head to the local woods more often if boys like Mitch Schif and Taylor Mason were out there enjoying their hard uncut cocks together. 😉
That's the theme to kick off this new bareback boy threesome video from one of the best European studios, BoyFun.
Imagine you're Tony Milak, and you stumble into this scene of a couple of horny boys sucking cocks and down to fuck. What would you do?
---
---
Spying boy Tony doesn't wait for long before his uncut cock is out of his pants and he's jacking off to the live show.
Surprisingly he lasts a few moments before he joins them. Personally, I would have just walked right up from the start. lol
He's welcomed with open… mouths.
The real fun kicks off when they get back to the apartment, and cocks are being greedily gobbled and licked.
All three boys are ravenous, but there's no denying Tony becomes the star of their bareback boy threesome session.
He's soon the top boy, fucking both the guys after Mitch has pounded Taylor.
The highlight might be the sandwich fuck they share, though.
Mitch ends up in the middle, with Tony's cock in his hole while he's balls deep in Taylor!
It's a big cummy finish for this one, so make sure you stick around to see the mess they make.
I'm guessing some of you are already considering cruising for some Forest Fuckboys right now, but click here to watch the bareback boy threesome video first. 😉