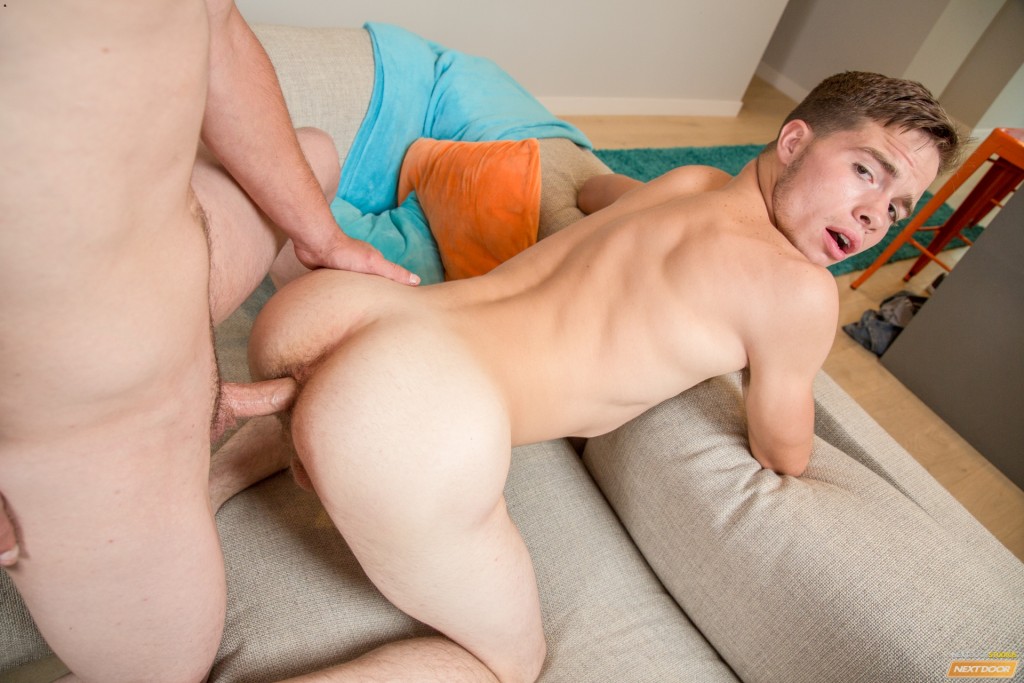 For those of your kind enough to read my last submission to Top Rated Gay Porn, please accept my heartfelt, "Thank You!" However, my story, oops, I mean Ben's is still not over! 😉 We will call part II of my gay erotica; Bareback Gay Porn, Gang Bang Fantasy! Ben woke up and knew he only wanted to fuck men from that point forward. When he wanted some strange dick and had an overnight with a guy not named Luke, he felt somewhat guilty but, his guilt was short-lived at the power of another man's cum deep in his ass. Ben was a natural bottom. Ben loved waking up with his guy next to him, sliding down his morning wood cock with his hand and the tip of his tongue.
It was a fantastic feeling being naked with another man who truly wanted you to be there. To begin taking every inch of another man's cock feeling it getting harder and growing in your mouth was the ultimate pleasure for Ben. Definitely a huge turn on. No matter how hot these one night stands were, Ben would always long for Luke's manly touch. Hearing Luke moan and groan from the pleasure Ben was giving him was a huge turn on. Ben always wanted to return the same pleasure and then some. Two hard cocks at the same time 69 style, both wanting to fuck each other.
What more could these gorgeous handsome gay males ask for? They could both taste each other's cum down the back of their throats and it tasted very sweet. Ben swallowed the cum from Luke's throbbing member and it didn't take him long to get hard enough again to slide into Ben's waiting ass. From these humble First Time Creampie beginnings, Ben became a cock sucking fiend from that moment on. As Ben grew sexually, he fantasized about sucking a long line of gorgeous cocks. Luke was not thrilled at first but, warmed to the idea once Ben assured him the fantasy was to allow him to lead the group sex escapade fucking whoever he wanted first.
The more Ben thought about this gang bang, the more turned on he became. How would Luke react to "his bottom" aka Ben getting pummeled by numerous cocks at once? Ben just could not get this gang bang out of his head. Mentally, Ben loved the idea of sucking cocks and being fucked at the same time by a group of guys. A huge turn on even just thinking about it but, how about after taking double-digit cocks up the ass one after the next, all spewing man juice deep into his bowels. There was only one way to find out!
Luke then asked Ben to confide in him if he had any additional fantasies? Ben then confided ever since his coming out, he wanted to turn a straight male and give him his first-time gay sex experience. Luke started to get turned on his hard cock is yearning to be touched. Ben then logged into his favorite gay porn site and found some amazing top gay porn scenes where a straight guy was tricked into having sex with a gay male. "See Luke, there is something I would like and can't wait to try" moaned Ben as he wanked his cock.
By this time, Luke had joined Ben as the two enjoyed a mutual masturbation session together. Luke became super excited for some reason and stroked his cock to an almost immediate orgasm, his hot cum over his muscle toned abs. Ben continued stroking his own cock to an amazing cumshot visualization courtesy of Luke which provided just the right inspiration. Luke bent over cum still affixed to his body and started to suck Ben's cock as he started spurting hot sticky cum down Luke's throat. Ben was still so horny, he promised to jerk himself off two more times before falling asleep.
As the two cooled down, Luke said, "I have a fantasy I want to try. Do I want to see how many cocks you can take at once during an all-male gang bang? Yes, I want to be in a room with ten or more men as they take turns sucking my cock before spreading your ass cheeks and fucking your brains out, Ben. I'm not talking average size cocks either. I'm talking Big Cocks like when we watch gay porn movies. If you're lucky, I might let those with Big Cocks rim you one by one as well! Is your tight ass up for it, Ben?" Ben was so fucking turned on now. He loved being the center of attention and assured Luke he was ready for multiple Big Cocks at once!
"Just the thought of ten men taking turns and plowing my ass for all it's worth. Half take turns fucking me in the ass one after the other five fucking my mouth. I want my ass to be pounded, each of those Big Cocks thrusting and fucking me hard, fast and deep, lots of bareback fucking!" Ben was nearly panting now! "Feeling each guy cum inside my tight ass while their cum drips out my freshly fucked throbbing man hole. The faster and harder I'm fucked the better it feels and being fucked ten times one after the other is paradise.  It makes me want more and more cock." Luke then added, "Then get over her and suck my cock!" Stay tuned for a future Top Rated Gay Porn update as my, oops, I mean Ben's Bareback Gay Porn: Gang Bang Fantasy Becomes a Reality! 😉