MY RATING: 9/10
The opening to this feature from 1985 might seem pretty corny and over the top. Nonetheless, I was actually impressed at just how accurate they were back then about how technology was going to go. I know that's a weird way to start out a post about a vintage gay porn movie, but I'll explain.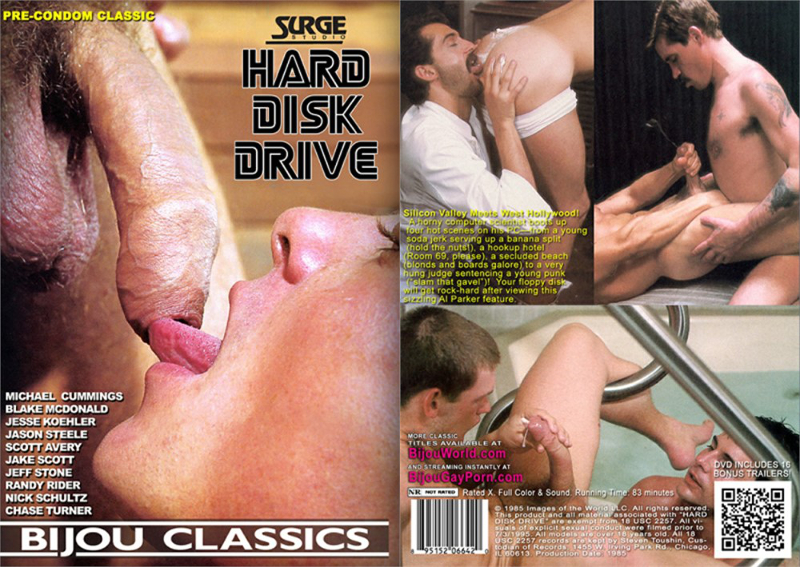 Full cast list: Blake McDonald, Chase Turner, Jake Scott, Jason Steele, Jeff Stone, Jesse Koehler, Michael Cummings, Nick Schultz, Randy Rider, Scott Avery
Studio: Bijou Classics
Forgive me for getting a little geeky on your asses. Allow me a moment to explain that the common use of the hard disk (3.5 inch) didn't happen until 1985. Consequently, the opening of this movie was ahead of its time. We also had no idea that porn would one day be viewable on a computer. Back then most people didn't have a home computer. If you were lucky enough to afford one, you couldn't watch anything on them. Bear that in mind when you watch the cheesy opening to this hardcore movie from back then. 🙂
It's a loose concept for a film, I'll admit, but then again we're not here for a history lesson. Although I find geeky guys and nerds damn hot none of these four scenes really stick to that theme.
---
Also check out: Straight military cock gets drained in San Diego Weekend from TLA Gay Unlimited!
---
It's just an hour and twenty-five minutes of hot hardcore fun with a lot of damn fine men all strung together under the notion that a computer would allow you to create porn and watch it. I hope whoever came up with this premise invested in Apple. lol
The action is seriously hot, the guys are hot, the cocks are hot, and it's all bareback too. As you guys know I love the vintage gay porn classics. I hadn't seen this one until today but it's definitely going on my "watch later" list for additional viewing.
Check out some pics, click here for the movie. If you still don't know why TLA Gay Unlimited is so awesome you should read my review of it! 🙂