This isn't the first boating-themed video from the guys at BoyFun. I kinda thought they would be delivering a series of these hardcore fuck sessions shot in a big bunch. Rest assured, I'm not complaining. I would love to spend some time on a boat right now away from these four walls. Spending that time with a couple of big cock boys like these would be a dream!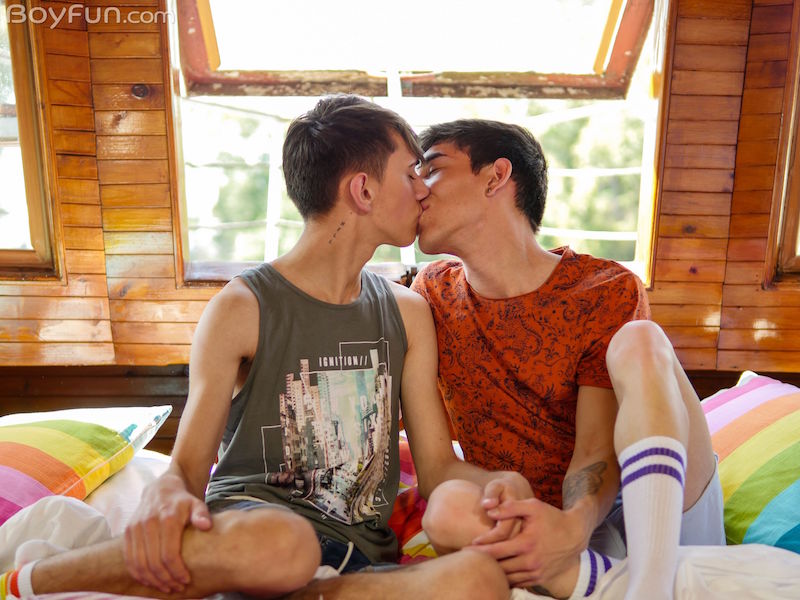 Sexy young stars Roman Capellini and Andy Ford are a twink duo you're not gonna want to miss. That is if you enjoy seeing horny boys with big cocks having a great bareback time, like I know we all do.
We've seen both of these twinks on the blog before. However, I think this duo might be the best one yet and that has a lot to do with the location.
The last time we saw Roman here on the blog he was getting a good stuffing from floppy-haired hottie Johnny Walsh. Yes, I bitched a little about the boating theme, but I think my opinions about it might have changed. Thankfully the gay boating lobby didn't come after me. I know you're out there!
Maybe it's just because I want to get out of the house so badly!? To be honest, even a Walmart parking lot would be an adequate place to have some fun with another guy right now.
---
Also check out: Handsome lad Finn Harper shares his dick with Lucian Fair in a new outdoor bareback twink video!
---
Roman Capellini is once again the bottom. He has a big dick twink friend to fuck him in this new video. Andy Ford is an adorable boy who loves to suck cock and fill up another twink with his naked meat. In this BoyFun update, he gets to do exactly that when the two head inside for a little romp on that big bed.
I don't know if the boat is rocking in the water while they're getting down to their fun. Nevertheless, I can imagine any passing pedestrian would probably have a hint at what's going on inside.
Believe me, they have a great time, with Roman getting his bareback twink boy hole fucked all over the bed and finishing with a messy cum splashing display that should have you all busting out a load with them.
I don't know how many more boating fun videos they have lined up for us over at BoyFun. If they're all as hot as this one I'm looking forward to it! 🙂
Enjoy the pics and click here for the video.