I'm not usually into massive muscle men, but I would love to get this bodybuilder cock to play with. And, of course, a hot cop is always gonna get my attention!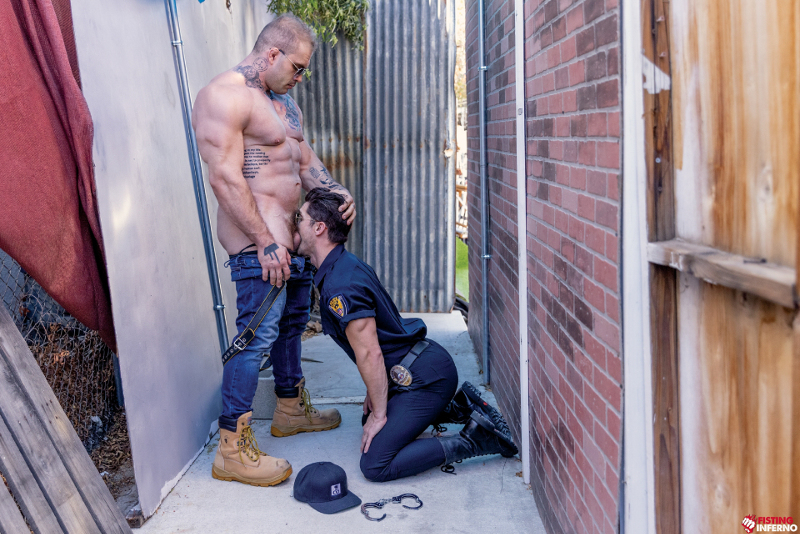 I'm not gonna lie. This is mostly about gorgeous Devin Franco for me.
I fucking love this guy. Then again, how could anyone not? He's fucking gorgeous.
Seeing him dressed as a cop is probably enough to have me jerking it without seeing anything else. lol
Thankfully, we get plenty more in this Fisting Inferno crossover video from Raging Stallion, and you're gonna want to watch every delicious minute of it.
He's being teamed up with massive Davin Strong and his bodybuilder cock for this video.
And, truly, Davin is GIGANTIC.
I know a few bodybuilders, but none of them are as huge as this guy. They're just as horny and down-to-play, but they're half the size of this giant dude.
---
---
So, whether you're here for Devin or Davin, you're gonna get some truly hot gay kink in this video.
The story is pretty hot.
Davin gets caught taking a piss in public by gorgeous cop Devin.
Obviously, this was a mistake by overzealous Devin because no matter how muscled he is, the cop is soon at the mercy of kinky muscleman Davin.
Gagged with his dick the fun only gets better when Devin finds himself stripped and up against the wall, his ass being flogged and whacked.
Needless to say, Davin totally owns the handsome cop with his bodybuilder cock.
He pounds him good and raw until he's done, and he feels like he's taught the cop a lesson.
Despite the punishment, I believe this has only persuaded Devin to try to arrest more men with their cocks out. lol
Check out some pics and click here to see that ass being ravaged by that bodybuilder cock. Remember, you get thousands of videos there.
Bodybuilder Cock Pics