Have you ever been caught wanking your meat? I have, and I've caught a few friends too. It never led to this, though!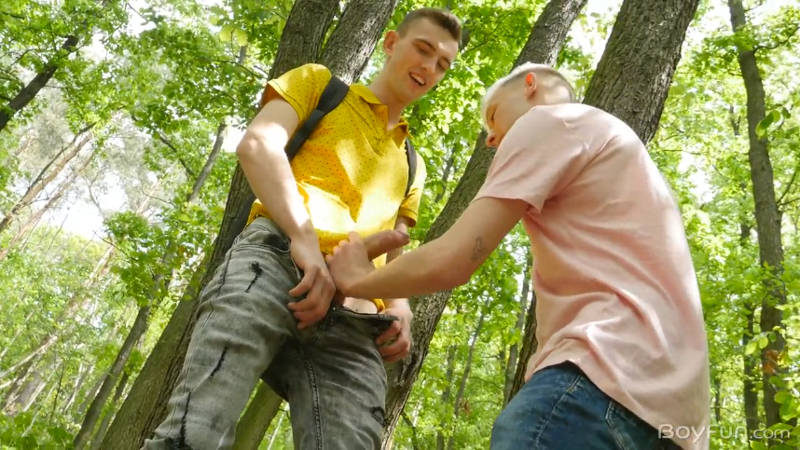 I'm willing to confess that I've been caught wanking a few times.
Although, is it technically being "caught" if you're happy for a friend to interrupt your stroking?
We all do it, so I don't know why guys are so precious about it. I especially don't get it when it comes to being caught by friends. I would be more than inclined to join in if I caught a pal with his hard cock in his hand. Wouldn't you? 😉
These two aren't friends when they meet in the woods, but they're more than that by the time this video from BoyFun is over.
---
---
Adam Barnes is the super horny and well-hung young man caught wanking in the woods for this hot bareback session.
Yes, that's a 9-inch cock he's waving around in the woods!
He can't seem to resist the opportunity to haul out his big uncut pink dick and give it some rubbing.
Young blond boy Kieron Zaks interrupts him at the right time. At first, Adam is startled by the extra set of eyes feasting upon his cock. Nevertheless, he is soon happy that he was spied on tugging his meat.
Kieron gives it some good greedy sucks before the two decide it might be better to avoid being caught by anyone else. They decide it best to head back to the privacy of his apartment.
That's a good idea. If too many boys came along they might end up in just a big pile of cock sucking!
They do more than that when they get to the comfort of a couch.
While this gay porn video starts out with a hung boy caught wanking in the woods, it soon develops into a rampant bareback fucking. It doesn't take long for young Kieron to appreciate the ball's deep sensation of bareback dick. Adam then rewards his backwoods buddy by splashing Keiron with his warm cum!
I love the way this started out as a masturbation scene, but the rest of it is just as hot.
Click here to see that big uncut cock being put to good use in that boy's tight little hole.
Excuse me while I consider going for A Wank In The Woods.