MY RATING: 9/10
You guys already know I love the vintage porn, and gay 80s porn is some of the best in my opinion. You don't have to agree with me. Nevertheless, just check out Head Trips from 1984 and tell me you're not jacking off to it. 🙂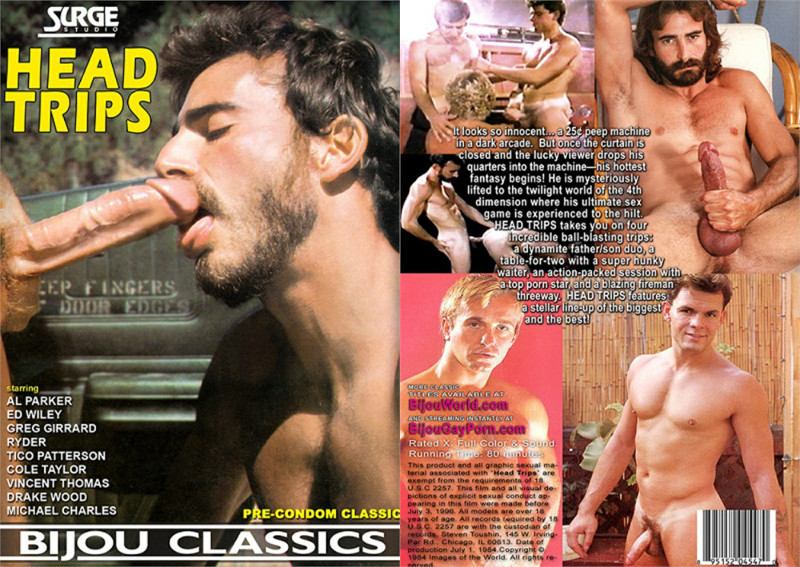 Full cast list: Greg Girrard, Rydar Hanson, Tico Patterson, Cole Taylor, Drake Woods, Michael Charles, Ed Wiley, Al Parker, Vincent Thomas
Studio: Bijou Classics
For the longest time, I had no idea why I had such a thing for the handsome and rugged daddy of gay porn Al Parker. I mean apart from him being a greedy guy who knows how to enjoy a good cock and a tight hole. Then it hit me, he looks exactly like a friend's dad from when I was younger. A guy I definitely had more than a bit of a crush on after I caught him showering naked and jerking off at the campsite when we all went away for a weekend.
He looks so much like him it's pretty amazing, the only difference is that my friend's dad was uncut.
So, am I naturally going to love these classic gay 80s porn movies because of him? Maybe, but this eighty (80) minute hardcore feast is still worth watching. Especially if you love awesome daddies, hot jocks, greedy twinks, and some interesting themes and settings.
---
Also check out: Shane Jackson, Gabriel Clark, and Manuel Skye, star in The Live-In from Masqulin!
---
The theme for this one is going to have you contemplating it, and I mean really thinking about the possibilities! Bizarrely it focuses on a horny sci-fi "wishing chair" that allows the man sitting in it to be transported into a fantasy world where whatever he desires can be real.
Imagine that, you just take a seat, put the insane disco style helmet on, and select your destination. Then suddenly you're immersed in a horny session of your own making.
I guess it's like lucid dreaming?
Anyway, check out some of the pics and click here to watch the movie. They have so many of these awesome classics there I would definitely recommend checking it out. Plus, if you like these vintage hardcore movies and you get a 40% discount using our link. If you still don't know why TLA Gay Unlimited is so awesome then click here for my review of it.
Now, if you'll excuse me I have some engineering to do, I just need to find some appropriate disco glasses.