MY RATING: 10/10
There's a lot I love to see in gay porn. Still a good bareback twink flip fuck is one of the hottest. That's especially true when the boys enjoying their naked cocks are as hot as these two stunning lads!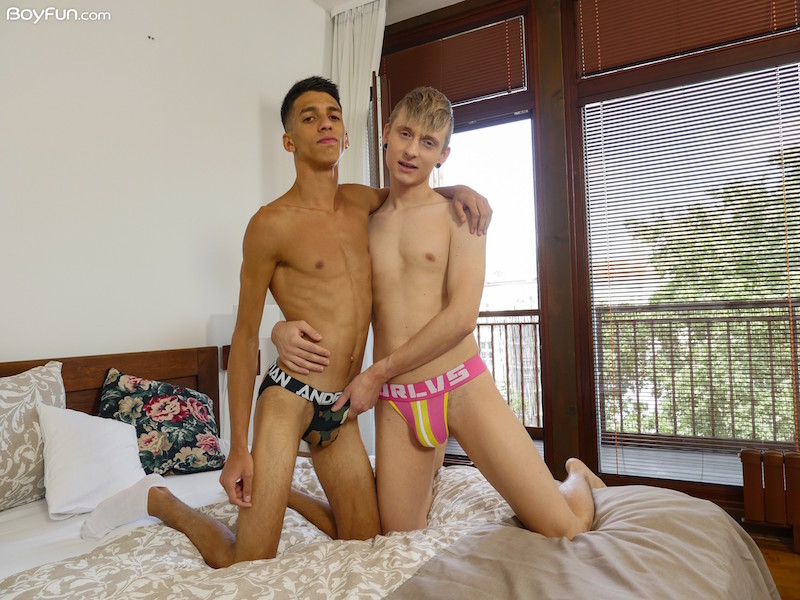 Imagine starting out in gay porn and diving right into a hot fuck like this one. The tanned boy Joseph Holland is doing exactly that with blond boy Peter Polloc for this twink flip fuck session at BoyFun. After seeing him delivering such a good time I have no doubt that we're going to see this boy back for more.
The theme for this one is pretty hot, too. Peter is enjoying some alone time on a balcony at what I assume is a restaurant when he gets a little horny.
Peter's timing is impeccable as he catches Joseph the moment he gets his long pink cock out for some rubbing. He's soon taking him back to the bedroom for the two to enjoy some real fun together.
---
Also check out: Bareback twink boy Finn Harper is back to fuck hot little Peter Polloc!
---
Now, I know a lot of you love a little outdoor fun. Although being caught wanking his cock worked out well for Peter in this video, I would advise against taking that risk. lol
However, you might be tempted to roll the dice when you see the bareback twink flip fuck fun these two boys enjoy together. Swapping their cocks in some tasty oral, and rimming ass. Then taking turns to pump the other's ass with their hard meat.
If you're not spurting your load with them by the end there's something wrong with you! 🙂
Enjoy some pics, but click here to watch the video. I know you're gonna love this one.