MY RATING: 10/10
I already know putting the term 'firefighter cock' in the headline is gonna get a lot of attention. As it damn well should. It's the latest release from Next Door Studios and it's gonna make your dick spurt like a four-alarm fire hose by the end of it! 🙂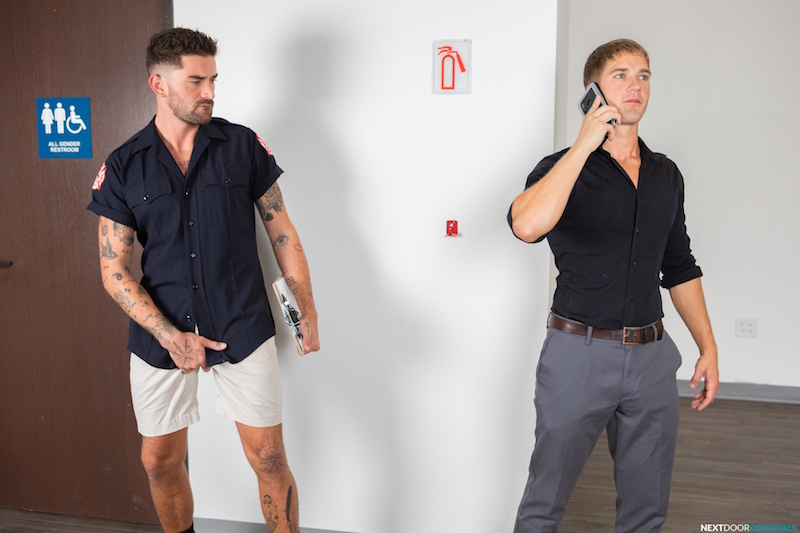 I'm gonna be honest, this is one of the horniest duos I've seen so far this year. I know we're still less than a month into 2021 but I see a lot of porn so I know what I'm talking about.
First we have gorgeous Chris Damned. He's the inked bad boy I've been more than a little infatuated with since I first saw him jacking his meat in a solo. He ended that with a self cum facial that deserves to be seen! You need to check out that post if you haven't already.
If anyone can play a firefighter convincingly it's this guy.
He's joined by equally hot and fresh-faced stud Brandon Anderson. Here's a guy we've seen only once on the blog when he was in a military flip-fuck with Roman Todd. If you didn't see that you really need to click here.
So, what's the deal with this video? Chris is the inspector checking out the business and make sure everything's up to code when he catches horny Brandon stroking his dick in his office. His fireman boner is soon throbbing up and ready for action.
---
---
If catching a dude beating his meat is not an invitation to at least join in with some friendly boner rubbing I don't know what is. However, it turns out these horny men are into a lot more than that.
With some delicious sucking of those drooling shafts, Brandon is soon getting his ass licked out and Chris is jabbing his bareback firefighter cock between those cheeks.
My only complaint is that there's no firefighter uniform. I guess it wouldn't suit the story, but it would be damn hot if this gorgeous hunk arrived fully kitted up. They need to deliver that next time if they're continuing with the firefighter theme.
Check out some pics and make sure you click here to watch the full hardcore scene. There's a lot to shoot some loads too!
Now if you'll excuse me I need to go and Google firefighter cock to satisfy my own curiosity! 🙂