MY RATING: 9/10
I probably don't need to tell you guys that there are a lot of stereotypes in the LGBTQ+ world that are totally not true. While it's true that we have our fair share of feminine twinks and leather dudes who look like they're from the 70s, I know from experience that there's a lot of masculinity and sporty types who love a good hard cock. So, when I found Knockout from Bijou Classics over at TLA Gay Unlimited I felt compelled to share it here and give you a little relevant story, too. 🙂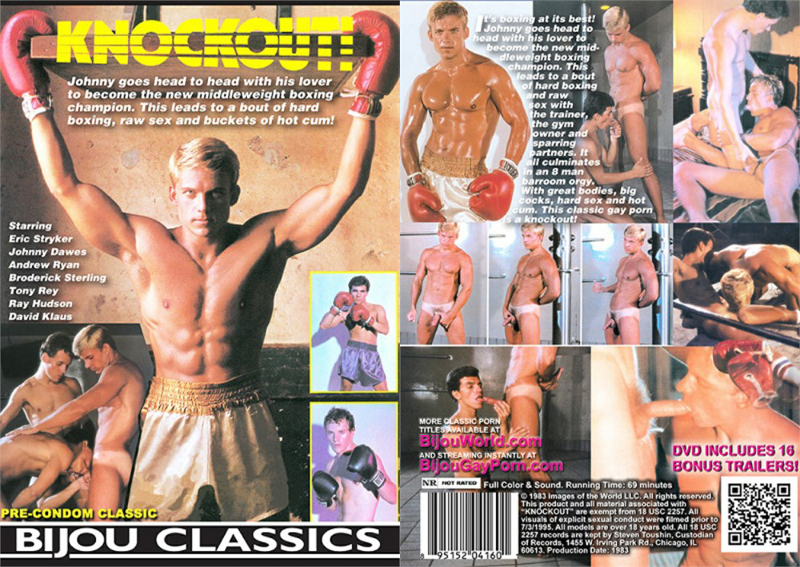 Full cast list: Andrew Ryan, Broderick Sterling, David Klaus, Eric Stryker, Johnny Dawes, Ray Hudson, Tony Rey
Studio: Bijou Classics
First of all, let's talk about this particular classic Bijou pre-condom film. If you're into sporty jocks dudes this one-hour (actually it is 69 minutes) gay porn movie will take you the full distance of the fight. Bad boxing pun intended! This video is jam-packed with some of the hottest male pre-condom performers of the 80s era. You can probably look at the names of the guys in this one and recognize at least a couple.
If you recall your gay porn history, handsome blonde cover boy Eric Stryker was seriously well-known in the 80s. That alone should have a few of you clicking through to watch this one. The rest of you are just gonna be enticed by all the bareback cock loving action between such sporty hotties. I don't blame you one bit.
This is all about what goes on behind the scenes when masculine fighters get themselves all worked up. Testosterone flowing, they then need some friendly relief from a fellow boxer. You know it happens, I know it happens. While this might be a fictionalized representation of it we're all gonna fapping ourselves silly knowing that there's a lot of guys exactly like this. Slurping meat, fucking butts in the locker rooms, and showers after a good training session in the ring. 🙂
---
Also check out: Get your fix of hot Cock Cruising in Public Gay Spots Vol.3 at TLA Gay Unlimited!
---
Now, for my own true story.
The guy I met was into MMA. He was part of some local club and had dreams of making it big. I think he did actually fight in some pretty big competitions. When I knew him he was a 25-year-old jock with a fucking awesome body. Plus an 8″ uncut cock that never quit!
He was actually into being dominated despite being a real masculine fighter dude. His fantasy was to be fucked by three bigger guys. Unfortunately, we never managed to make that happen while we were fucking around. However, we did a whole lot of other stuff that I still jerk off thinking about now. 🙂
In fact, I'm wondering where he might be now so if you don't mind I'm gonna go look him up. Maybe he'll be down to rekindle our short but very enjoyable fuck-buddy situation. Stay tuned! 🙂
Check out some pics from the movie and click through to watch it. If you still don't know why TLA Gay Unlimited is so damn good click here for our review of the site, you'll discover why this is the best on-demand gay porn streaming service out there.