I have to admit to enjoying some good gay voyeur porn. These twinks deliver a hot fuck in their new Jawked video.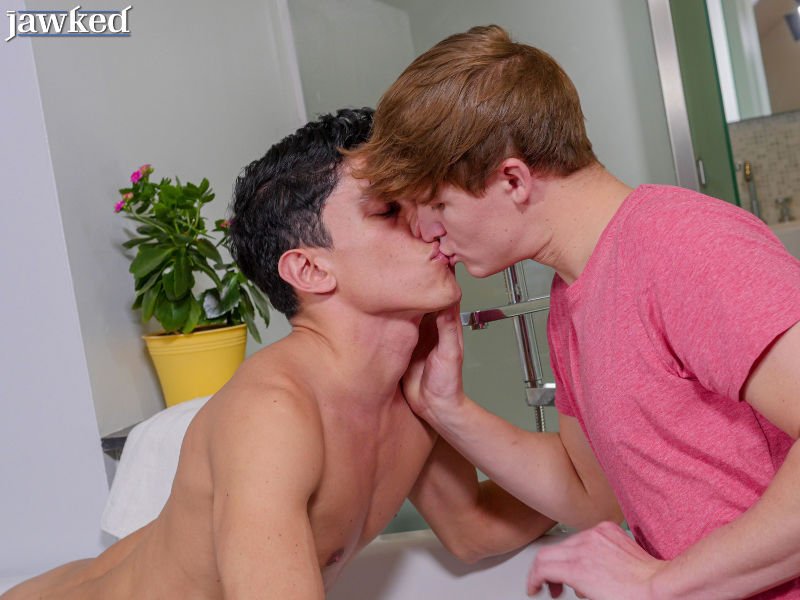 I guess I need to start this by being disappointed that they don't show the spying.
Their pics often skip the narrative and just deliver the sex, but I guess that works.
Having said that, these Peeping Pleasure preview pics are for your benefit, I've already watched the video.
Twice! 😉
This video with new boys Antony Carter and Joaquin Santana kicks off with Joaquin enjoying a soak in the tub and gay voyeur Antony spying on him through the glass.
Can we just mention how ho damn sexy Antony is? He reminds me of a swimmer friend I knew in college.
Man, that guy had a fucking nice dick!
We actually saw Antony appearing on their other site BoyFun back in 2020, I'm glad to see him back.
You can understand why fit boy Antony would be peeking on Joaquin, too.
He's a hottie, with a lovely uncut cock and a hot little bubble butt!
---
---
Of course, the handsome lad is caught in the act and Joaquin isn't in the least bit disappointed.
Moments after they lock eyes and tease each other with their dicks Joaquin is slurping on his pal's cock and they're swapping for Antony to get a good taste of his buddy's boner.
The rimming and fucking starts on the stairs, which is never advised.
I've tried to fuck in some interesting places; bathroom floor, office storage cupboard, garage… it might seem hot for about 2 minutes but it soon becomes very uncomfortable.
It's hard to enjoy a good fuck when you have a screw digging into your knee or a filing cabinet slamming against a wall. lol
These boys soon work out the stairs were a bad idea.
With some good bareback thrusts of Antony's gorgeous uncut cock in his buddy's ass they're moving to the couch to really enjoy it.
Some riding of that dick takes these boys to a gooey end with Joaquin splashing his seed and getting a messy facial from his handsome buddy!
Both of these boys are new to the site, and I expect we're going to be seeing a lot more of them in the next few months.
Click here to watch the gay voyeur getting that ass.
If you're still not sure what this site is about click for my Jawked review.