MY RATING: 10/10
You guys know already that I absolutely love this studio and director, and although it's not just because of all the daddy cum being splashed around that's a good part of it. Check out this new wet and messy compilation at TLA Gay Unlimited.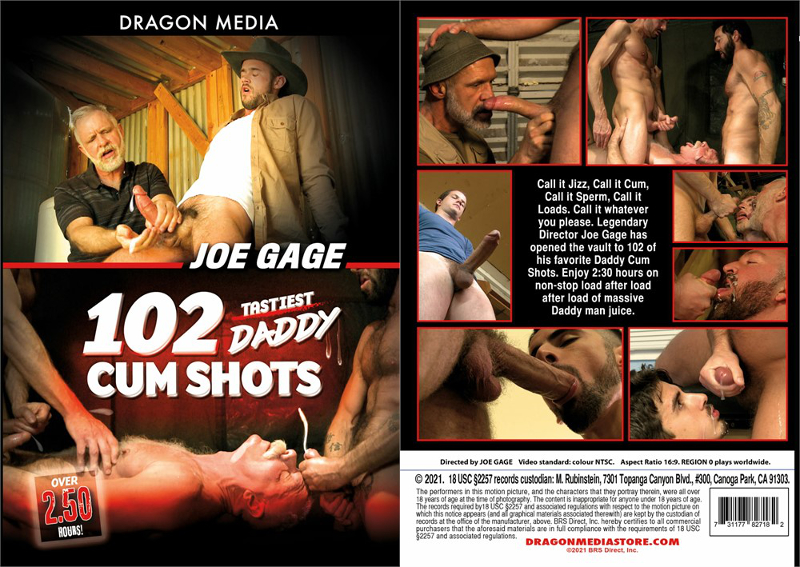 Full cast list: Allen Silver, Dale Cooper, Devin Moss, Mike DeMarko, Scott Reynolds
Studio: Dragon Media
You know you're a fan of a studio when you can watch a compilation like this one and name almost every movie each cum load is from. Do I get a badge or something for that?
As you can probably see, this two hour and thirty minute release is all about the daddy cum, either shooting from daddy dicks or being received by daddy hands, faces and mouths.
If you're at all familiar with director Joe Gage you'll know that there's a lot of exactly that kind of hot and sticky mess in his movies, so you can expect an action packed collection of moments in this release.
It's impossible to talk about scenes in this one because you get 102 different jizzy splashes from some of the best men Joe Gage has ever filmed. Man after horny man comes along to pump that splooge, with guys like Allen Silver ready to receive it.
---
---
While I would always encourage any porn fan to check out the full back catalog of hardcore releases from this studio you can't go wrong with a daddy cum compilation like this one to show you exactly the kind of thing you've been missing.
As seems to be customary for me I have managed to find one criticism of this compilation. While I might be able to name every movie each cum load was originally from you might not be able to and it would have been a good idea to add on-screen text. Seems like a missed opportunity to not tell the viewers that "this daddy cum shot comes from XXXX movie", you'd probably want to see the rest of it.
Then again, at TLA you have almost all their movies to stream anyway.
Check out some stills from this movie and click here for the full streaming hardcore action with a 40% discount! And if you somehow still don't know why TLA Gay Unlimited is the best gay porn streaming site in the world click here for my review.