Everyone here loves to watch bareback muscle men sharing their cocks and holes with each other. You need to check out Bare Muscle Vol. 3!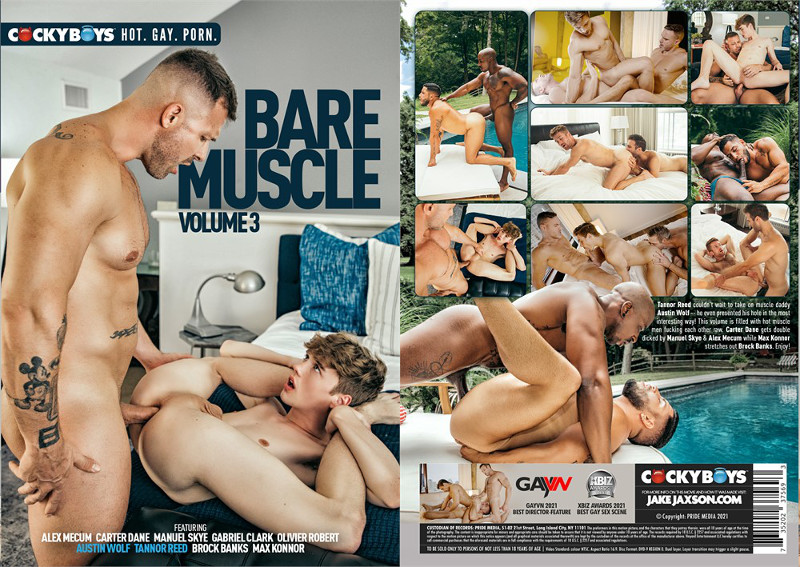 Cast list: Alex Mecum, Austin Wolf, Brock Banks, Carter Dane, Gabriel Clark, Manuel Skye, Max Konnor, Olivier Robert, Tannor Reed
Studio: CockyBoys
There's been a lot that I've really missed over the last year and a half, just like everyone else, but don't tell my friends that they're further down the list than going to the gym.
There was a time when I never imagined I could say such a thing. However, I could do with seeing friends once every six months as long as I can go to the gym.
It's not even for my health or enjoying working out. The gym is just an awesome place to see seriously hot guys and maybe hook up with one or two.
No surprise I really got into watching Bare Muscle Vol. 3 from CockyBoys when I saw it streaming on Adult ROKU at TLA Gay Unlimited.
---
---
Of course, I'm not suggesting anyone should hook up with bareback muscle men for ass action at the gym. There's a lot of other fun you can have in the showers or steam room before you get to that! 🙂
This movie is all about that raw and hot action, with some of the hunkiest men.
It's not all big and buff hunks. Scene three stars hot little Tannor Reed getting his ass pounded by big muscle man Austin Wolf!
We open with three insanely hot bareback muscle men sharing their cocks and finish with poolside duo, but every moment in between is awesome. It's an hour and forty minutes of big meat being sucked, holes being licked and raw muscle dicks cramming inside, leading to come awesome cum loads.
There are a lot of bareback muscle men movies out there, right? Nevertheless, you have to admit CockyBoys is one of the best when it comes to delivering real hardcore action with gorgeous guys.
Check out some screenshots and click here to stream the full movie right now, and with a 40% discount using our link!
I shouldn't need to really sell the benefit of TLA Gay Unlimited membership to you. The opportunity of setting up your very own private ROKU channels with more gay porn than you can shake a dick at is more than enough. If you're still not convinced, please check out my membership review, reasons to join TLA Gay Unlimited. 🙂
Now if you don't mind I'm going to go looking for gym-themed porn to get my fix of what I've been missing. I really can't wait until I'm back in the showers with my horny dudes! lol