MY RATING: 9/10
Yeah, I like seeing straight guys performing on cam, deal with it or don't. I know that I'm not alone. I know that once you see some of these pics of gorgeous, muscled and hung stud Antonio Valentini you're gonna be clicking through to watch him, too.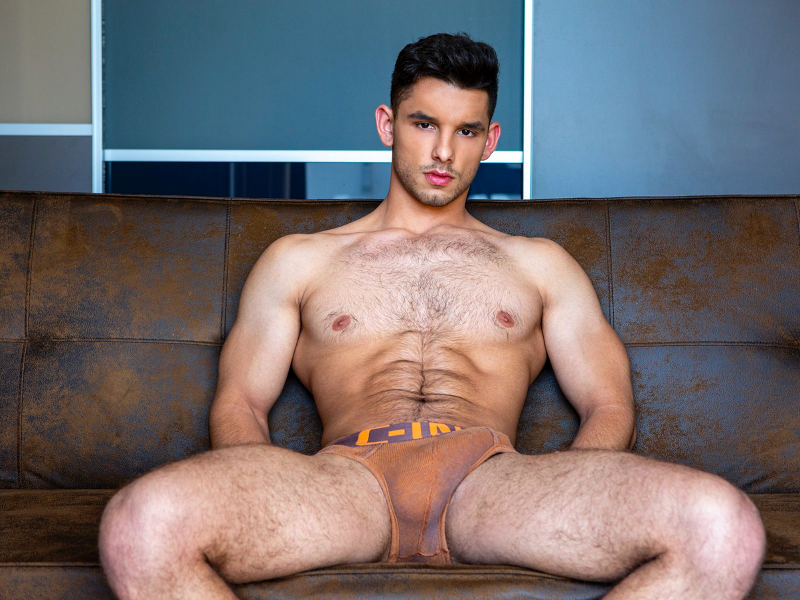 I seem to start a lot of these cam guy posts by saying that there are loads of awesome guys over at TopRatedGayPorn.Live. While that's true I think Antonio Valentini might be the hottest and horniest one I've seen yet. I've just spent more than two hours looking through all his photos on the site and seeing some of the hundreds of videos he's got there of him rubbing that big uncut cock and shooting off some of those big powerful cum shots up his ribbed body. I know that what I've just seen should have you all clicking over there to watch him, too.
As I said, he's straight (kind of), but he knows what guys want to see and he's not shy about delivering. He's packing eight (8) inches of uncut cock, some real full balls, and a hairy ass that he's not shy about playing with too. If you want to see a straight, gorgeous, incredibly horny guy fucking his ass with a dildo and loving it, you need to go and see this guy in action. Now!
It's no wonder this man has so many fans. Antonio's awesome to watch, so much fun, willing to make things a little more interesting with some toys and some dressing up too.
Now, back to that "straight" thing… Antonio says he's straight, but he plays soccer and he and his teammates like to suck cock. Sure, it might just be a horny fantasy he's instigating for his fans, but when you see him perform you'll know that he's definitely the kind of guy who wouldn't mind rubbing and sucking with other guys. I think he's one of those "straight" men who just have a fetish for dick and isn't shy about enjoying some cum fun with his buddies.
Yeah, we all wish we were on his team and in the showers to show them just how much fun guys can have. 😉
Oh, and did I mention that he can really cum? Antonio usually finishes his private gay live chat session by shooting his impressive load all over his abs and chest. By the way, in a couple of the clips, I've seen he can even shoot himself in the face! How many times have you ever witnessed a self-inflicted facial?
Honestly, why the fuck are you still here? Go and watch him enjoying that thick and long uncut cock!