If you love muscle, unquenchable lust, and greedy bareback fucking between powerful men you're gonna love this hairy daddy porn movie – Wolfs Den.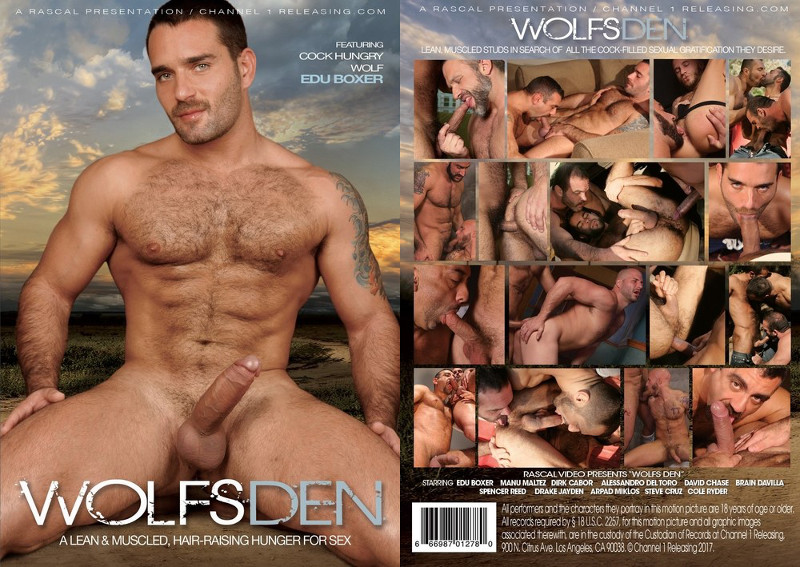 Cast list: Edu Boxer
Studio: Rascal Video
You have to admit that the cover of this movie is enough to have you clicking to stream it.
That's Edu Boxer on the cover. He's one of the most gorgeous hunks to ever appear in hardcore gay porn.
He's not alone. Edu is joined by an incredible cast of equally impressive hunks in this hour and forty-minute fuck frenzy.
You can expect some of the greediest, sweatiest, horniest action between these men. Each one leads to big pumping cum loads being slung from every raging cock, too!
---
---
There's no theme to speak of, other than the type of man you can expect.
This is hairy daddy porn, after all. There's a whole lot of muscle, furry ass being eaten, experienced muscled cocks being sucked and slammed into willing holes.
We get five great scenes of duo and threesome action with this movie, and every scene is worth watching.
I know some of you like to skip through to get to certain moments in a video (I see you!) but trust me when I say that every moment of this is worth savoring.
My personal fave is the truck threesome in scene four.
So much of this reminds me of the kind of super masculine hardcore from Ray Dragon. I think that's why I love it so much.
Some of these men have appeared in those super butch movies, too.
This is all about real men helping other real men with their manly needs. If you're a fan of powerful and hairy daddy porn you're gonna want to add this to your streaming collection.
Click here to start watching it now, along with thousands of other hardcore gay porn movies available on demand.
You can watch all these great movies on adult Roku too. In addition, you get up to a 40% discount membership using our link!
Still not convinced?
Click here for my TLA Gay Unlimited review.