Okay guys, I swear I'm not making this blog a Mojzis Kral fan site, he just happens to keep appearing in all the European gay porn I have a habit of watching. I guess it's understandable that he would become such a prominent guy in the business, with that body and that truly gigantic cock, but I'm still surprised that he keeps popping up everywhere I look.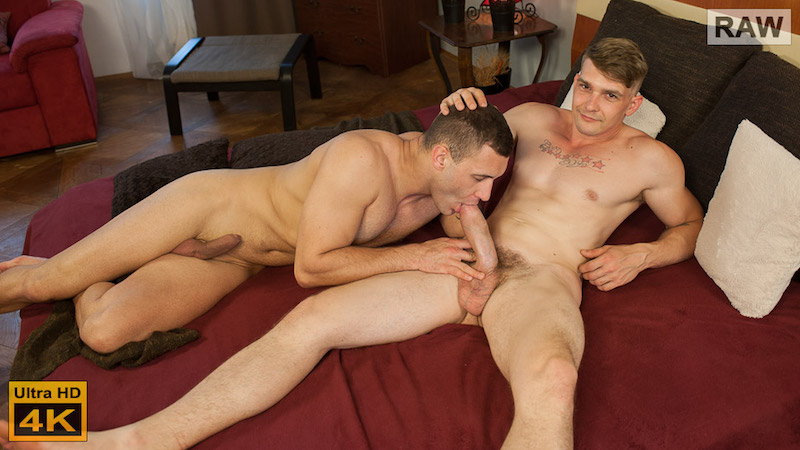 [yasr_overall_rating]
You might understand why I wanted to share this upcoming video with you all when I tell you that we get to see his straight jock ass being fucked for the first time. Lucky handsome straight dude Gerasim Spartak (another one of my faves from the William Higgins site) is the one busting that cherry for the dude, and from the looks of things they both have a real good time. (well, duh!)
We've seen Mojzis sucking a dick and frotting cocks with other dudes, and of course jabbing his massive uncut meat into other guy's butt holes, but this is the first time the hunk has opened up his own hole for another dude to slide into.
Does this mean we're gonna be seeing a lot more of this guy exploring things and riding dicks? I think he's definitely become a must-see dude in the business and he seems to be down for all kinds of action so I guess this is just the start of his career in the business.
Personally, I can't wait to watch this video and see that hole being plugged with a raw dick for the first time.
The video is dropping tomorrow (July 20th) so I would recommend getting in there and preparing to enjoy the show by watching some of the other videos both these guys have been in. There's a hell of a lot to watch there and I think you're gonna be busy. Click to check it out.