MY RATING: 10/10
So it's been a few days since I logged into BoyFun to check out their new action. I immediately asked myself, "Why can't all site updates be as fucking hot as this one?" I know it's gonna sound like I'm just trying to sell something. Don't get me wrong, whenever you sign up at our Top Rated Gay Porn™ partners, it really helps us out! Nevertheless, this gorgeous new boy and his hard uncut twunk cock deserve to be shared around. I think he's gonna have plenty of you clicking through and fapping away the day.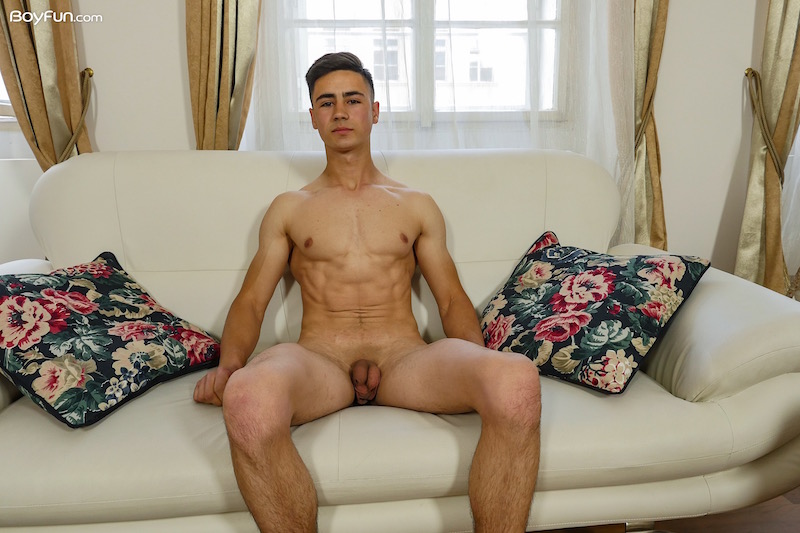 His name is James Watkins and he's insanely hot. I don't mean like "yeah, he's lovely."
Holy fuck this boy is so damn fine! I feel like painting him on a giant canvas in oil paints and framing him in gilt.

This 19-year old reminds me so much of a footballer boy I had a major crush on in college. He was a real tease. He'd get his twunk cock out and have a wank with a mate. However, he wasn't into anything else. I offered to blow him a thousand times but he never relented.
---
Also check out: Hung Bareback Twinks Andy Ford and Curtis Cameron have a Hot Time in Quarantine!
---
You can imagine that when I saw this boy showing off that awesome body and playing with his dick I was thinking back to that time in college and wondering if the lad I knew then has finally let another guy play with it for him since then. I can almost guarantee he has, and I'm pissed that I wasn't the one to show him the ropes lol
We know a little bit about this boy. Jame's a very sporty young man, obviously. He plays football with his buddies at the weekend and works out at the local gym a few times a week. I think he might be *technically* straight but I know I'm not the only one who wants to see him back for more with one of the other boys. I don't think we'd have to wait too long for that if the fans support him enough and beg for him to come back. That's a hint by the way. When you get in there to watch him jerking out his heavy cream make sure you like his solo and leave a comment!
Check out these pics and click through for his video, prepare to fall in lust with his gorgeous twunk cock, and the rest of him! 🙂