MY RATING: 10/10
Yep, Daddy's Boy Whore Vol. 2 gets full marks! You're gonna see why when you check out some of the pics, read my comments and click through for the movie. If you love both hot young twinks and nasty daddies who know how to fuck, this one is for you!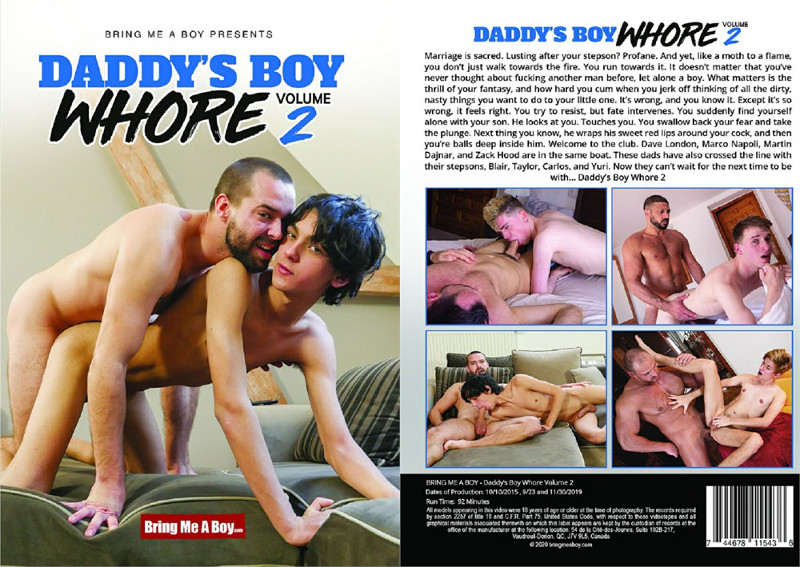 Full cast list: Dave London, Marco Napoli, Martin Dajnar, Taylor Mason, Yuri Adamov , Zack Hood
Studio: Bring Me a Boy
I'm gonna start this off by asking if you're already a member of TLA Gay Unlimited and enjoying their thousands of movies? I know most of you probably are, it's the best gay porn streaming service in the world for a reason. But what about the rest of you? I see you! What are you doing? Click here to read our review of TLA and find out what you're missing out on, you really need to get in there and give it a try.
Now, onto the movie, and why this one is so fucking hot. . .
It's not just about the gorgeous twinks getting all that daddy cock, or about the handsome and horny daddies themselves ramming their hard meat between those less experienced butt cheeks. It's about the whole older/younger thing for me.
When I first started out in the "gay scene" it was all very divided. Young guys wanted to be with young guys. Older men chased them a lot before turning back to each other, realizing they could have a whole lot of fun without those young lads.
These days it's all changed for the most part. I know that I can walk into a bar or club and I'll be equally approached by hot and horny young things wanting to get fucked by someone more experienced, as well as finding older men who know their way around a cock and are down for pretty much anything! 🙂
With these four scenes, it's definitely all about the older men taking control of their younger cock loving boys. And it's fucking hot to watch.
In summary, I'm not gonna tell you everything, you need to click through and check it out. Don't forget to read our TLA Gay Unlimited review if you haven't yet!