I don't know if there is some kind of official list naming the 5 hottest BelAmi porn stars, but I think I've managed to decide on mine. I thought you guys might like to check out my list and maybe click to see them in action!
Ethan O'Pry
I'm gonna be honest and say that I don't always like seeing long hair on a guy, but some dudes can really pull off that look.
Ethan O'Pry is one of them.
This boy has to be in my top 5 hottest BelAmi porn stars, he's just insanely gorgeous.
I love everything about him, from his smile to his tight jock body, his long uncut cock to his eager ass.
He's a runner, in case you're wondering how he stays in that kind of shape. I ache just getting out of bed in the morning but this boy can apparently run miles every day.
That might explain why he's such a horny boy and can cum a lot.
I still think he looks a lot like Jared Padalecki, one of the brothers from the show Supernatural.
Giulio Pasolini
I don't often describe a boy as being "pretty", but I think he might qualify for that title.
Giulio Pasolini makes my hottest BelAmi porn stars list because he's a little powerhouse of horny sexiness, with a gorgeous face, a muscled young body, and a rigid uncut cock.
He's been in 4 hardcore videos so far and all the fans seem to love him. You can understand why! He's a damn hot twunk who likes to get fucked, and he loves big loads in his face and mouth!
If you haven't seen him in action you have to.
Bruce Querelle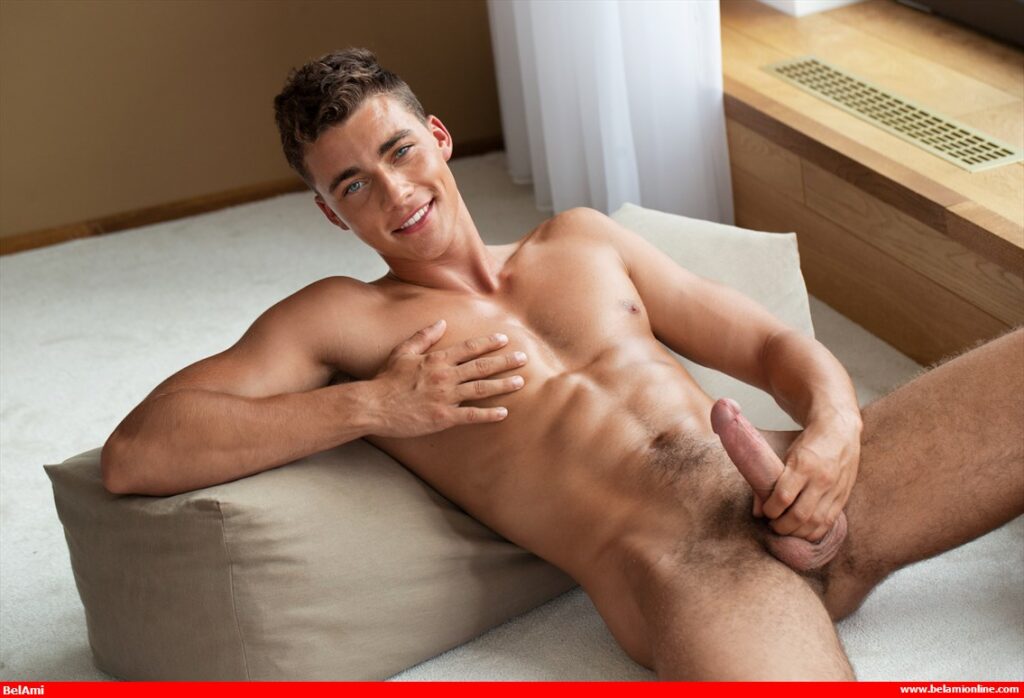 We saw Bruce Querelle here on the blog just yesterday, enjoying some cock play with another ridiculously gorgeous young man.
I had to watch a few of his other videos after that jacking scene and let me tell you that I wasn't disappointed!
He started out in 2018 and he's been in 13 awesome hardcore videos so far, both top and bottom. He's also been in a lot of the behind the scenes videos from Summer In Prague. They're often a lot of fun to watch and include a lot of cock play between the guys.
What is there to say about this boy other than he's insanely hot and of course, he has to be on my hottest BelAmi porn stars list.
Just look at that face and those eyes!
Dolph Lambert
With his handsome face, blond hair, awesome body, and gorgeous uncut cock, Dolph Lambert has to be one of the most famous of all the boys.
You might have all seen him on video and not even known, because he's been in so many BelAmi productions over the years.
He started out in 2012 when he was a cock-hungry student needing to fund his education.
We had a few great years with him before he disappeared but every scene was in is worth watching. Of course, he has to be on the hottest BelAmi porn stars list. I don't think he's ever going to leave it.
Lukas Ridgeston
It would be remiss to create a top list like this and not include the King himself, Lukas Ridgeston.
Everyone knows him, right? Everyone loves him, too.
This ridiculously gorgeous hunk of man started out in gay porn way back in 1993. He quickly shot to fame thanks to his immense physique and his incredibly handsome features. Not to mention (but we will), his awesome thick and uncut cock, and his on camera skills.
Lukas has won countless awards and is the kind of guy who will always end up on these lists no matter what. He's appeared in some of the most amazing gay European porn over the years and every minute of it is worth watching.
Although Lukas has never identified as gay or even bisexual, there's no denying that he knows his way around a cock. I believe he's still working in the gay porn business today, but mostly behind the scenes. He's still as handsome and hot as ever and maybe we'll see him back in front of the lens at some point. We'd all love to see that!
Hottest BelAmi Porn Stars Recap
So, there you have the Top Rated Gay Porn team's list of the hottest BelAmi porn stars.
We knew it was going to be ahem… hard to pick just five (5).
There's a good chance the list might change in another month as BelAmi adds one gorgeous guy after another on their site. One thing is for certain, Lukas Ridgeston will always be on it.
Click here to check out the BelAmi site and all their hot content. There are thousands of videos to watch with the most amazing uncut European models ever discovered.