It's not lost on me that I say this a lot when it comes to cam guys, but I think this dude is going to be in your top-ten for guys to watch playing with his wang on cam. I like bad boys, especially when they're packing the kind of meat Muscle Dick is showing off in his shows!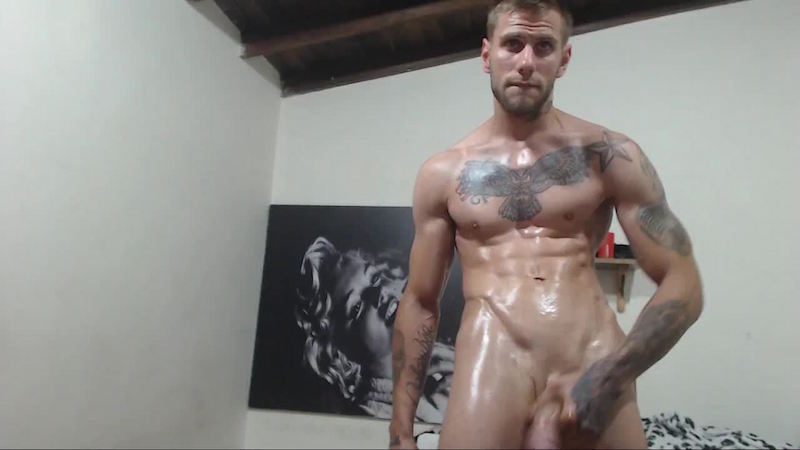 Twenty-five (25) year old German stud "Muscle Dick" describes himself as bi-curious. Nevertheless, I know I'm not the only one who would love to satisfy his curiosity in any way he wants. Could you say no to this guy? I don't think so.
For the record, I love German men. I don't know if it's the accent or what, but damn they have some fine dudes.
He's a handsome dude, even without his bod and cock on show I would be drooling. We get to see absolutely everything in his performances, including some interesting butt play. I guess he's already explored quite a lot, being a curious dude, but it's definitely hot seeing him sliding a toy into his hole and his cock springing up for some wanking.
As you can see from some of the stills from his many videos (you can watch a lot of him even when he's not on cam performing live) he knows how to handle that 8″ uncut cock and get a good messy load pumping. I probably don't need to tell you that he has a lot of fans who tune in to see him every time his camera is on, I think I'm gonna be one of them, but maybe after I've wanked my way through his many videos of past performances. 🙂
Check out some of his pics and click through for his cam show. He's performing right now while I'm writing this so forgive me if it seems a little hurried. I'm sure you understand that I really wanna get back there to enjoy the chat and Muscle Dick's cum spewing performances on topratedgayporn.live!