I'm probably not alone in thinking I can usually recognize the work of a few gay porn studios just from the guys and the kind of action they're offering. You can do it too, right? I know a Joe Gage scene when I find one, and Bel Ami too. I'm adding Kristen Bjorn to my list of easily identifiable fucking now that I've seen Bareback Breeders at TLA Unlimited.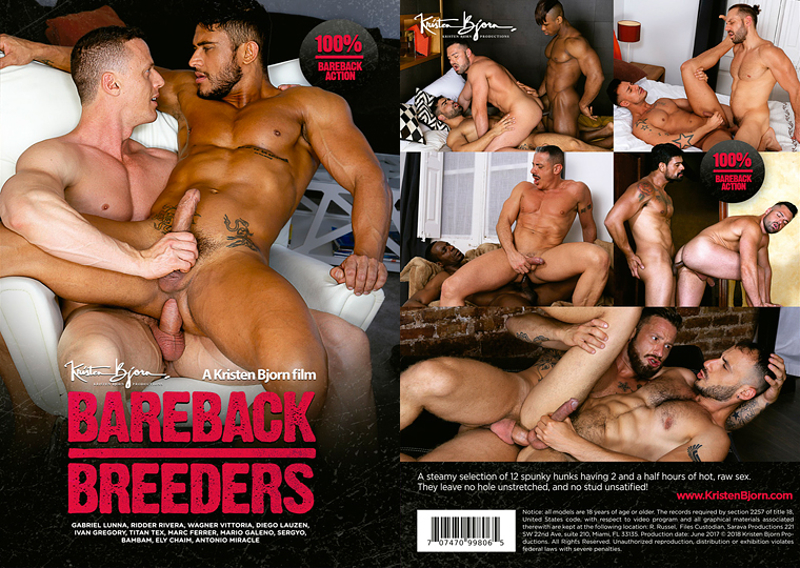 Full Cast List: Antonio Miracle, Bam Bam, Diego Lauzen, Ely Chaim, Gabriel Lunna, Ivan Gregory, Marc Ferrer, Mario Galeno, Ridder Rivera, Sergyo, Titan Tex, Wagner Vittoria
Studio: Kristen Bjorn Video
Do you remember when it was a gigantically massive deal when studios started going bareback again? I do, and it still causes controversy now, even though it's far less of an issue than it was. I guess people have just gotten used to the idea that people can make their own damn choices? 🙂
Anyway, I knew this was a Kristen Bjorn Video before I even saw the name, just because of the cover. It's so obviously them, their models have that masculine and hunky look and their graphics and photography is always perfect.
Yeah, the movie is as good as the cover, before you start thinking I'm going off on a tangent.
There are some awesome men in this movie, with six scenes of greedy cock lust, dick slurping, rimming, raw fucking and cum dumping, everything you could possibly expect from a gay porn movie with the name Bareback Breeders. You get some action with a couple of mature hunks, interracial (why this still needs to be pointed out in this day and age is anyone's guess) and a whole lot of muscle and fur. It kicks off with a great threesome, and only gets hotter!
If you love real masculine fucking, you're gonna want to take a look at this one.
I think I've sold it enough, but just in case you need a little more persuasion I recommend checking out scene six with Antonio Miracle and Ely Chaim. Damn, these two handsome hunks are so hot together!
Click through for the movie with a 40% discount, and if you still don't know how awesome TLA Unlimited is, click here for the site review.