There are so many gorgeous European cam boys showing off for their fans, but you need to add this handsome young man to your list of performers to watch.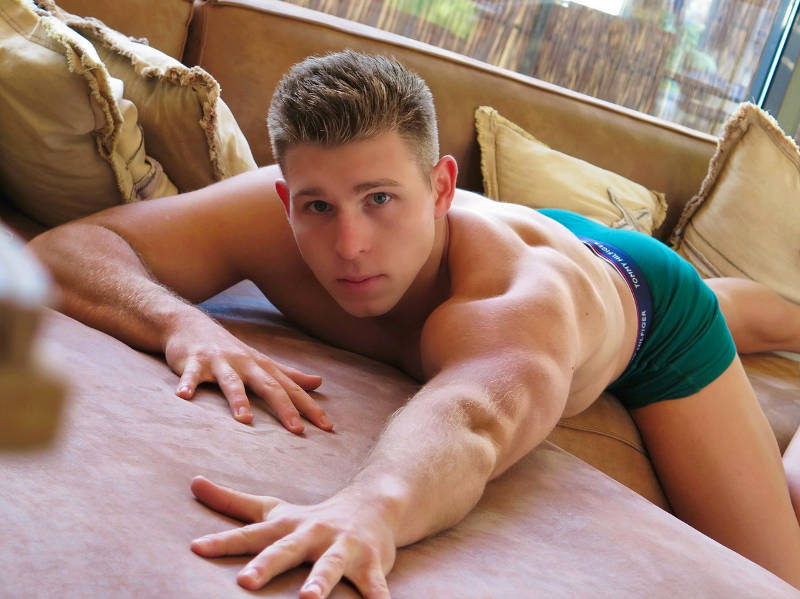 I really think I need to take a vacation in the Czech Republic. I think that's where gorgeous Hunter Bridges is from.
So many of them are from there!
I don't know what the deal is but I can only assume there's some special government program. Maybe it's like finding Olympic athletes? Perhaps there's some kind of training scheme for gorgeous young men to get into porn? lol
Whatever it is I hope it continues.
Hunter Bridges is now one of my fave European cam boys and although I don't have a lot of photos of him to share with you here you can see why he's worth checking out.
---
---
He's a 22-year-old bisexual stud with a 7-inch uncut cock, an awesome jock body, and a lovely personality to match.
You can kind of see that there's no ego about him, right?
He knows he looks good, no doubt about that, but he's got a certain innocence in his eyes and a sweetness about him that makes him even more attractive.
I'm not the only one who thinks this.
After a year performing on cam for his fans, it seems they all agree that he's sexy, smart, funny, hot, kind, and well worth watching.
He's also very into some kink role play, as a lot of great cam performers are. He's down to play coach/trainee, bad cop/good cop, student/teacher, and even pirate! I don't know what pirates roleplay entails but I'm tempted to find out.
Aye, Aye, Captain! lol
I would recommend clicking here and taking a look at his profile. Read some of the things his fans have said and tune in for his next show.
I might see you there. 🙂