It's no secret I have a thing for uncut cocks on hot jocks and sexy twinks. As a result, European gay bareback porn is like an automatic go-to for me. Check out the latest hot offering I've found at TLA Gay Unlimited.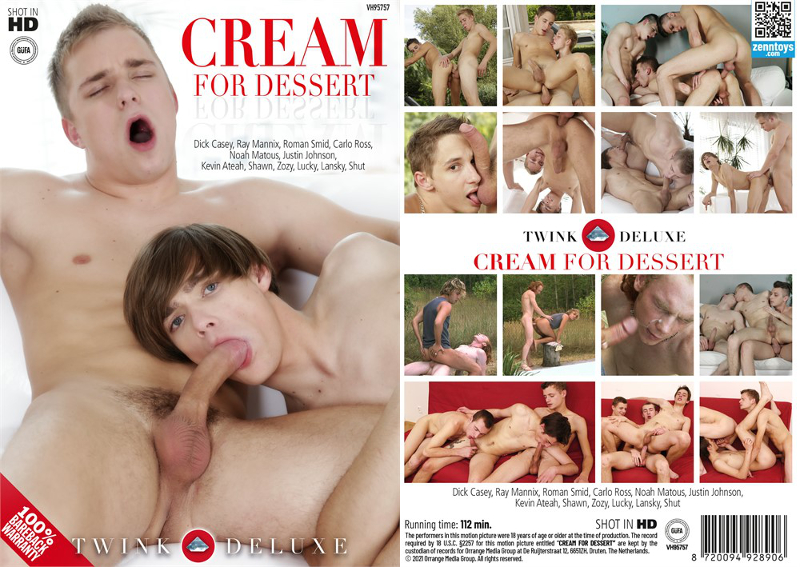 Full cast list: Carlo Ross, Dick Casey, Justin Johnson, Kevin Ateah, Lansky, Lucky, Noah Matous, Ray Mannix, Shawn, Shut, Tim Scooby, Zozy
Studio: Twink Deluxe
I have to admit it's probably not too much of a surprise to you that I recognize almost all of the twink boys and hunky young jocks in this 1 hour and 53 minute delivery. When you've watched as much European gay bareback as I have you get to know certain faces (and cocks).
I wouldn't say I'm addicted, but I know what I like 🙂
This is a collection of scenes originally filmed for different studios. As seems to be popular these days Twink Deluxe has brought these scenes together under a great theme.
There's no story here and the theme is pretty loose. All in all, it's just gorgeous young guys sharing their uncut cocks, sucking boners and fucking each other raw, shooting off juicy loads of cum to enjoy.
Do we really need much more of a theme than that?
As you can imagine with a title like Cream For Dessert there's a lot of tasty finishes to these five scenes of hardcore action, with cum loving ends that should have your mouth watering if you enjoy the gooey stuff.
And we all do, right?
---
---
You get a good mix of action in this release. Accordingly, there's some hot threesome fun, lots of sporty young jock types, and some real slim twink boys. Moreover, this is European gay bareback shot by great directors who know what you want to see in your hardcore action.
They don't miss.
Check out some of the pics from the movie and click here to get watching it right away.
You probably don't need me to tell you why TLA Gay Unlimited is so awesome, you get thousands of movies to watch for next to nothing. You can always read my TLA Gay review if you need more persuading! 😉