MY RATING: 10/10
After sharing some tame pics of gorgeous muscled hunk Niko Vangelis from his cam guy profile at TopRatedGayPorn.Live, I decided to upload some hardcore action from BelAmiOnline. It occurred to me that I could share some photos of him enjoying his thick uncut dick from one of his solo videos. I'm having a slow start to the week, okay? I'm obviously not firing on all cylinders or I could have just combined the pics in one post! 🙂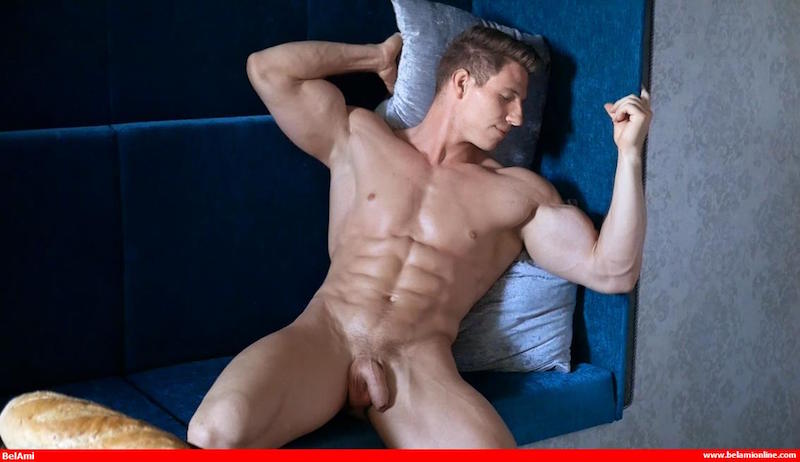 The shots from today's update are from a BelAmi video released back in October 2019. Niko Vangelis and equally hot model Niccolo Neri met up with famous photographer Michael Stokes in Budapest. The catalyst for this photoshoot could have just been a behind the scenes (BTS) look at what it's like on the set with gorgeous studs showing off their uncut cocks. Whatever the backstory, Niko made it more interesting when he decided to give that meaty uncut muscle cock some stroking.
Honestly, I am someone who has sincerely enjoyed physique videos since the 1990s. Yeah, there was still a lot of those being made right before the Internet boom happened. I can really appreciate the sexy seductiveness of just handsome naked men showing off their awesome bodies and floppy cocks. Nonetheless, I confess that Niko Vangelis made this special video far more interesting when he started jacking his meat.
Prepare yourself for an impressive cum shot. Most of the BelAmi guys deliver awesome messy cum loads when they finish a video. Niko really impressed me with his cum control while stroking away at the gorgeous dick. The cumshot is worth the wait as Niko launches a fountain of thick muscle man cock cream. The spectacular release ends up splashing perfectly between his pecs and abs.
Enjoy some of the photos from the video, and don't forget you can watch him in lots of hardcore scenes over at BelAmiOnline, and you can watch him performing on cam for his fans at TopRatedGayPorn.Live, too! 🙂