I was just checking out some of the new arrivals on the TLAGay site this afternoon and when I saw this solo jerk off with Lance Corporal Jaxson I knew all the fans of big military dicks would want to enjoy it too. I love military man meat, and that might be because I have some experience in that regard 🙂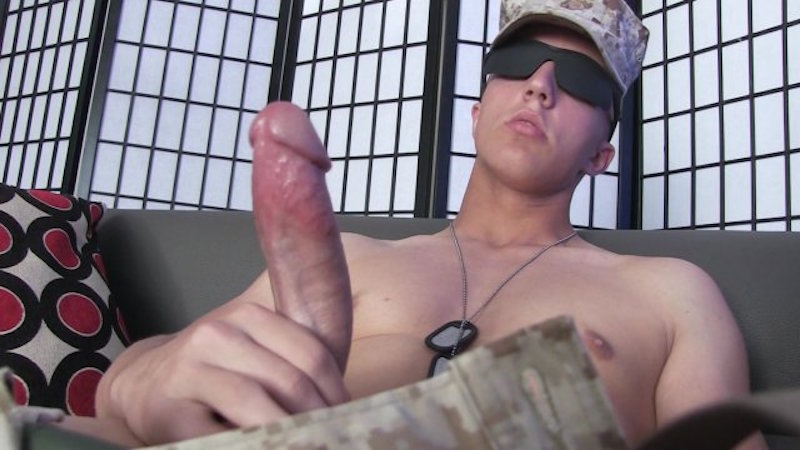 I have to admit that I wasn't too familiar with TLAGay when I got there, but now that I know I can watch videos like this one for almost nothing I think you guys know I'm gonna be there most of the time. Do not be surprised if you see me writing about more scenes available there (there's a fucking ton of videos to watch and I think I'm gonna be busy for a while lol).
So, who is Lance Corporal Jaxson? He's a damn fine young man with a damn fine cock, thick and juicy, the kind of dick I think I could spend a few hours licking and sucking. Honestly, just look at this boy's dong, wouldn't you unhinge your jaw to worship all of that?
He's a former wrestler, and I think you can see that in his build. He's not a muscle pup, but he's pretty damn fit and you can totally imagine him in a singlet with his big dick bulging out of it.
As you can see from the pics he's enjoying a Fleshlight for this one. I'm pretty familiar with toys and although I've only tried a couple of Fleshlights (or Fleshjacks) I do love those things. It's much better when you're sharing one with a buddy though, so if you get the chance to do that I would highly recommend it.
And that brings me to my experience with a military dude… This was a while back, when Fleshlights looked like they were make from Bakelite. I met a military guy through a mutual friend and it soon became clear that he was just a little curious about things, or maybe it was just convenience? Whatever it was he was real horny and while he was planning to sleep on my couch for the night after an evening drinking he put some porn on and I got my Fleshlight out and we shared it. He had a fucking nice cock too. I never got to suck it or anything else, but he was down for jerking each other and sharing the toy.
So, that's my little brush with military cock, it wasn't as big and impressive as Lance Corporal Jaxson's is, but it was still fucking good.
Okay guys, check out the pics from the video and go and check out the scene, you can get it for just a couple of bucks and it's well worth it. There's more of him over there too so if this whets your appetite you might also want to see what else he does with that big dong 🙂