MY RATING: 10/10
Of course, this movie is going to get top marks. Believe me, it's not just because I really love the vintage gay porn movies from Bijou Classics. The theme for this one is really hot. Fap along while a big list of horny strippers shows off for an audience, having explicit fun with fans and fellow performers.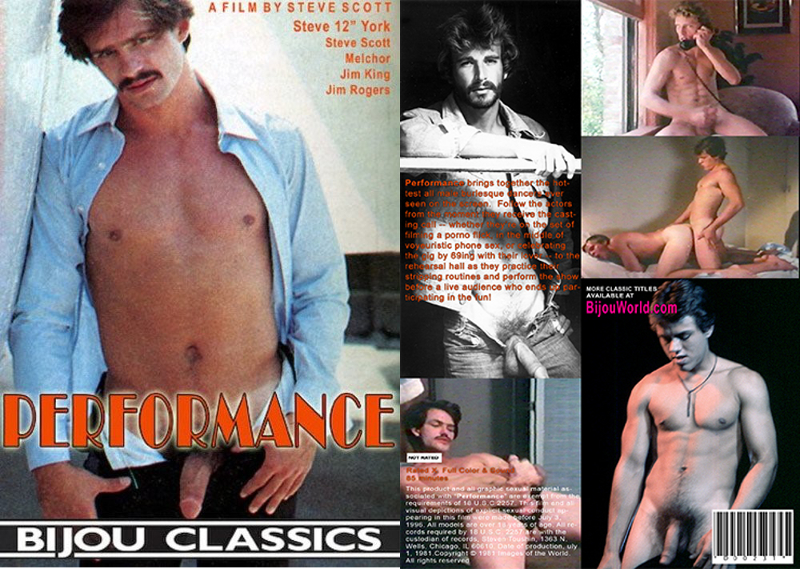 Full cast list: Derrick Stanton, Al Parker, Steve York, Melchor, Shawn Victors, Nick Rodgers, Jimmy Rogers, Bob Moore, Steve Scott, Val Martin, Julien le Cocq, Jim King
Studio: Bijou Classics
If you're a fan of the classics as I am then you're going to recognize a few of the hot and horny men getting their cocks out for some good fun in this 87-minute movie. We have the incredibly well-hung Steve York and his 12-inch meat. Next, Nick Rodgers looking like he belongs in a Kiss tribute show. In addition, Al Parker makes a momentary cameo for literal seconds while the action continues in front of him. Honestly, I don't know why he's credited. We don't even see his dick. Nonetheless, I guess he's another famous name they were happy to have on the cover.
Despite that (in my opinion) erroneous addition it's a great movie packed with action. If you're searching for a horny jack off session from exhibitionists while another man strokes and watches. Perhaps you're looking for a real hot group performance with the guys on stage giving their meat and cum loads to some very lucky men in the crowd. Rest assured there's something for you.
---
Also check out: Hard Sex 13 at TLA Gay Unlimited!
---
Although there are some major names here the fact that Julien le Cocq is appearing in his very first all-male movie should interest you. This former Playgirl hunk had never been in gay porn before this as far as I'm aware. Clearly he has a good time in his debut.
Having known a few performers over the years I know how horny they can be and how active their sex lives are. I guess it comes with the territory. I've even known several straight men who performed for a little extra money at pubs and clubs. Even these "pay for gay" men were inclined to at least have a friendly jack off session with guys backstage. However, getting a blow job was even better. I can neither confirm nor deny that I have been found stroking cock and slurping out some loads with a stripper or two in my time! 🙂
Check out some screen grabs from this awesome movie and click here to watch it, with discount access! Read my review of TLA Gay Unlimited if you still don't know why it's the best gay porn streaming service available. And remember if you're into streaming vintage gay porn like I am they have an ever-growing collection of classics. Their expansive library offers more than enough to wank your way through. 🙂