Fuck working out! I want to get back to the gym to start enjoying all that gym shower cock again. Especially after seeing this video from Extra Big Dicks!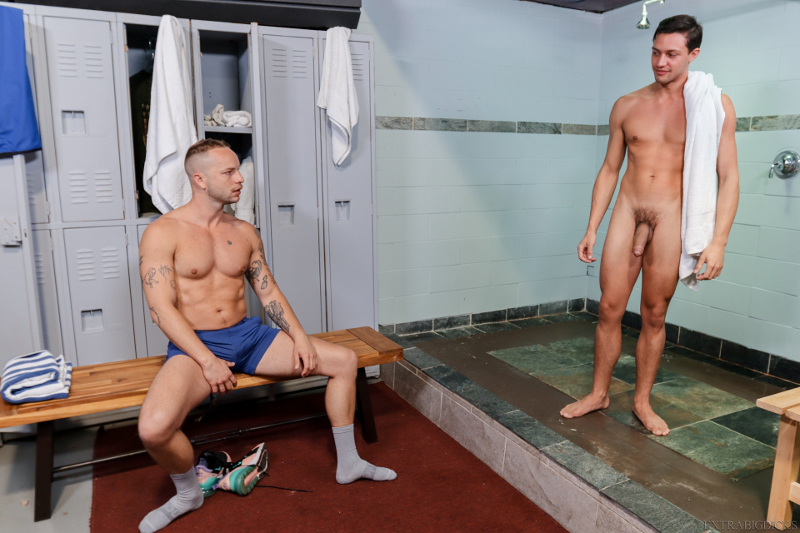 I have to admit that I was never much of a gym cruiser. Maybe other guys are different but I wasn't looking for dudes to fuck. I was mostly about the friendly wanks and sucks from random horny dudes.
Still, seeing Matt Heron giving his big uncut gym shower cock to lucky Bryce Hart in this new video has me eager to get back and enjoy all the sights.
We all know that if you saw that big gym shower cock swinging around and looking so tempting you'd be making a move on Matt, too.
Your attention would be very welcomed by this horny and hung gym member.
---
---
All it takes is a little appropriate attention from handsome and horny Bryce as the two are checking out those urgent dicks. After all that working out, they need to get some loads pumping. They're ready to help each other out with some sucking and fucking.
The oral is so delicious.
As a fan of locker rooms and showers – and big uncut dicks. I can totally appreciate the time they take to lovingly worship those delicious boners.
Ultimately this is about the fucking. Matt gets in there to lick out his friend and slide his big bareback dong inside. Then the fun really kicks off.
This is the kind of "workout" we'd all love to get at the gym, finishing with some big splashing cum loads that have us all joining in with them.
I'm not recommending that you make a move on a random guy when you see a big gym shower cock-thickening up and throbbing. Even so, just maybe a little knowing nod in the guy's direction might lead to something! 🙂
Now if you'll excuse me, I need to start weighing up the risks and considering getting back to the gym for some locker room cock myself. Before your next workout, click here to go and watch the full bareback video.