Bisex Hot Dad had my attention the first time I laid eyes on him. I had always heard that mature dads are so horny and grow handsome with age. Never could I imagine my luck as I hit the "jackoff jackpot" when my new neighbor moved to town! I met James last year when he bought a gorgeous home in our neighborhood shortly after graduating from high school. He looked hot as fuck and I lost much barely legal sperm fantasizing about him taking my anal virginity.
James was recently divorced and moved to my town because he wanted a totally new beginning. I was just a shy gay college guy who spent the majority of my weekend at home. College kept me busy through the week and by Friday night I as was horny as hell with no place to go! Seriously, there is not much going on in my hometown. I spent most of my free time surfing first-time Bisexual Dad Porn, Gay Bisexual Porn and Gay Porn on my Roku.
Bisex Hot Dad
James was a hot dad, but he looked like much younger than his years. Most people were off twenty years is guessing his age. I didn't see him often as I would have liked. But summer was near and I planned to stay home for at least a month before I go on vacation. After another epic Roku masturbatory session, I had an extra good sleep. I awoke with a major erection but, that would have to wait as I was ready for a breakfast. Then I heard a doorbell. It was James, he wanted to borrow some coffee from me. I must admit, I didn't like him personally at first. He was handsome but he was so full of himself.
James knew that he looked good and wanted attention from others. Other ladies and girls from my street liked him a lot. He laughed when most women accused him of being a womanizer. He appeared somewhat open-minded about his sex life and we become close quickly. In no time at all James was spending mornings at my place. We drank coffee and I listened to his many stories. He had big arms, muscles, grew a manicured beard that matched his dark hair and big brown eyes. James was mesmerizing and a master storyteller.
When he talked, I fantasize about him. I imagined him fucking all the ladies he had sex with. James was in a good shape for any age and he probably fucked the neighborhood sluts at will. I thought they probably enjoyed with him because he was strong and jogged every morning. While the thought of vagina kind of grossed me out, picturing James hard cock fucking anything until it spewed turned me on! I'm sure his cock was something to behold as well!
Bisex Hot Dad
I masturbated often while I was thinking about him. He noticed that I look at him and that I like him, but he didn't say anything to me, and he didn't say anything to my parents. I played cool and I say to him that I am his friend. I like to spend time with him and that I like to hear about his stories about fucking other women. One night, it was very hot, hotter than usual. I was in my backyard and I wanted to drink something cold. Thirsty, I grabbed cherry cola from the fridge and I decided to go for a walk.
I didn't have my shirt on, but it was not big deal because it was late. I figured who would see me anyway? Not so coincidentally, I ended up at James' house, but I noticed that someone was there, in his bedroom, with him. Hot blonde was totally naked and he banged her right in front of his window. She was blindfolded and she didn't see me, but he banged her from behind and he looked directly at me. I tried to hide, but it was too late – he saw me and he locked his eyes with mine.
I watched them having sex and I was so fucking horny, my dick was big and hard. It was risky but, I decided to take off my pants and I started to masturbate while he looked directly at my cock. He simulated licking and I came so hard right in front of his house. As soon as I came, I quickly went to my house and I hoped that no one saw me. James actions left no doubt he was a Bisex Hot Dad!
Gay Bisexual Porn
When I got home, I received a message from James asking; "Did you like what you see?" How would you like to be next?" My heart started racing and I felt so excited and horny. I didn't know what to say, and I didn't reply to him at all. But, the next morning, I decided to talk to him. I called him but no one answered. I guessed he was not at home so I decided to sleep some more. My parents were away on business and I was completely naked on my bed.
After twenty minutes or so, I heard knocking on my bedroom door. I thought my parents are home so I just take my boxers on. But, it was him and I was so glad he was right there in my bedroom. He looked angry and horny at the same time and I found that very attractive. You spied on me last night, don't you? You were a very bad boy and I must punish you for that. He grabbed my balls so hard I thought I will scream. But, it was also very pleasurable. You apparently knew what he was doing.
I like to fuck women and I like to fuck younger guys, is there anything wrong with that? I said, of course not, and I grabbed his cock too. It was hard and thick, and it was so huge. I sucked his dick and I gagged on it like never before. He fucked me in my mouth like there is no tomorrow, he even tried to put balls inside my mouth, but I just couldn't handle it. I showered in the morning and my asshole was fresh and ready for his big dick.
Bisex Hot Dad More Gay than Straight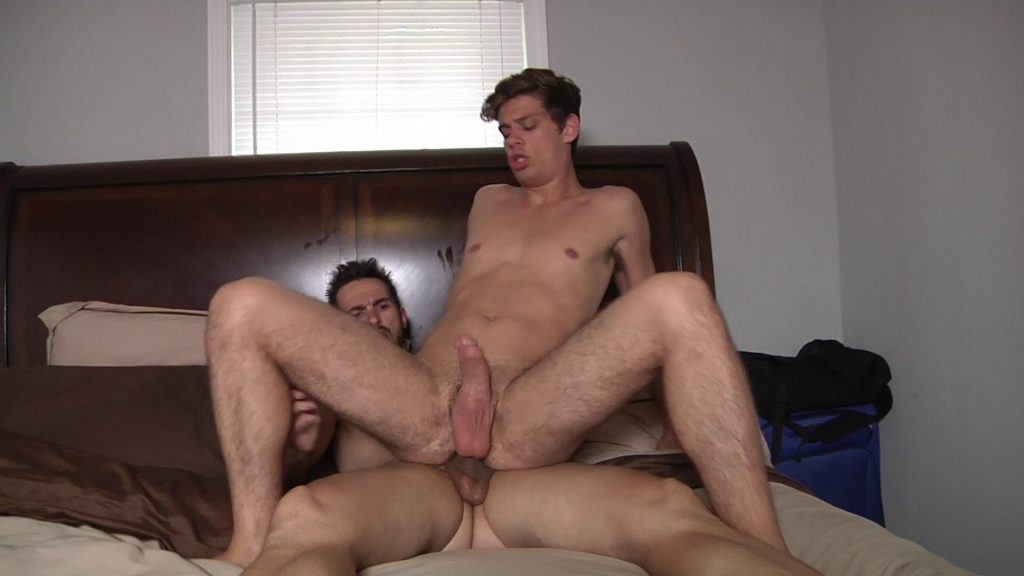 James bounced me on the bed and with all his weight, he laid on top of me. He put his dick deep inside my ass and it was amazing. He pounded me for what seemed sixty minutes, my ass hurt so much, but I loved it. I screamed from pleasure and I didn't care if anyone heard me or not. "Yes, fuck me, right there, right in my tight asshole, you are the best," I told him. I looked at him and his bisex hot dad sweat was dripping all over my freshly fucked body.
When he was ready to cum, I decided I will give him a surprise so I stuffed two fingers in his ass and massaged his prostate. I did this to myself so I knew exactly where to put my fingers. James moaned and yelled at the same time and he came all over my bed. I will never wash these sheets again, I told him in half serious tone. James and I then went for a shower where we had sex again, but this time he was romantic and sensual. Lucky for me, he knows how to be rough and gentle at the same time. James was my first Bisex Hot Dad lover and I thank him for being more gay than straight!