If you've been paying attention you'll know that most of the guys over at William Higgins start out straight and explore things on video with other dudes. It's one of the reasons I love the site so much. But, every now and then they get a bi guy like this dude along and I'm instantly hooked. If you like your men rough and hunky then you're gonna spill your seed watching this guy in his debut jack off.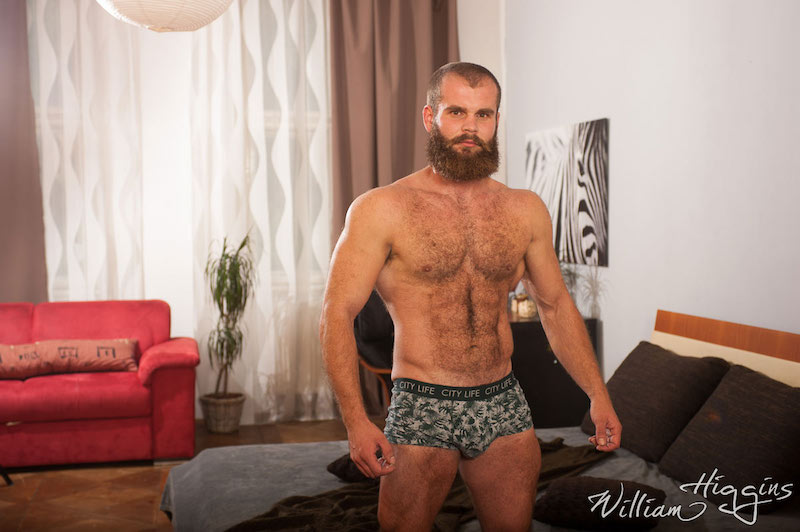 [yasr_overall_rating]
I'm going to ask you guys a question… would you kick handsome hunky stud Hugo Brtnik out of your bed? I'm guessing not, but let me know in the comments anyway.
I don't usually go for hairy men, I guess they usually have to have more than that going for them and this case he definitely does. Not only is he a powerful stud with a damn fine body, you can tell this 29 year old electrician is a handsome man underneath that beard, too.
Of course, it makes him even hotter that he's into guys as well as girls, and the fact that he admits he really likes trans girls tells me he has a specific thing for dicks. But hey, who doesn't have a thing for dicks? I'm sure even a lot of guys who call themselves totally straight love to look at hard and wet cocks all the time. If they didn't then they'd only ever watch lesbian porn. lol
I have no doubt we're gonna be seeing a lot more of Hugo Brtnik after seeing him working that uncut cock and splashing a big load of cum out over the floor. There's more than that to this video, of course, he shows off his hairy hole and we're left wondering if he's ever had a cock up it. I'm guessing we might see that in a future video. 🙂
Check him out, click through and watch the video, we need to make sure this guy comes back for more and we can only do that if you watch him and enjoy the show. Get ready for a big messy cum shot at the end, when this dude busts his load out he really squirts a thick and powerful load that seems to go on and on!