I'm nowhere close to being religious. However, I love seeing some good religious cock getting some hot action in a movie like this!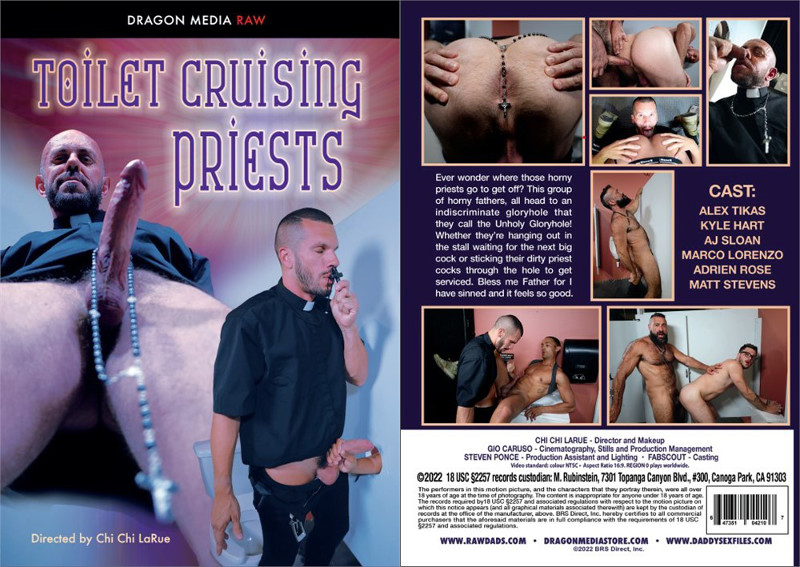 Cast list: Adrian Rose, AJ Sloan, Alex Tikas, Kyle Hart, Marco Lorenzo, Matt Stevens
Studio: Dragon Media
I'm perhaps one of the least religious people you could meet.
I don't like it. I don't participate in it nor wish to be involved. The closest I have come to religion was dressing up as a nun for Halloween one time.
Still, I do love seeing a religious man abandoning his faith. Especially when he gets the chance to suck a hard cock or ride the dick of a congregation member!
That's a little of what we get in this hot religious cock movie from legendary director Chi Chi LaRue and the fantastic Dragon Media studio.
---
---
The title leaves absolutely nothing to the imagination.
Sometimes that's a good thing! There's no debating what you're gonna get when you hit play on this, but let me tell you anyway 🙂
We have a hot gaggle of priestly fuckers heading into the restroom to look for some hard and juicy cock in this near two-hour delivery. You can bet they find what they're looking for.
They might be conflicted about their lustful desires. Nonetheless, those religious cocks won't suck and stroke themselves, and when some hard meat is offered, they can't wait to get their fix.
It's a real kinky, real horny, real hot series of scenes, with three extraordinary long encounters to enjoy.
You get big boners, religious men craving pleasure, the whole rest room and cruising theme, and a whole lot of glory hole sucking and bareback fucking before the cum loads explode from tips and make a big mess.
I would definitely recommend checking this movie out at TLA Gay Unlimited but click here for my TLA review if you don't know about it.
It's the best gay streaming porn service worldwide, with thousands of full-length movies. Remember, you get a discount with our link!
Now, say a few hail Marys or whatever they are and plead for forgiveness for your Toilet Cruising Priests sins. lol