MY RATING: 10/10
I called it! After seeing this fit lad wanking his straight uncut cock in his debut a little while ago he's been persuaded to come back. This time he actually lets another guy handle his dick for the first time. Furthermore, I think we all know that this isn't gonna be the last time we see him sharing that boner with another dude at William Higgins.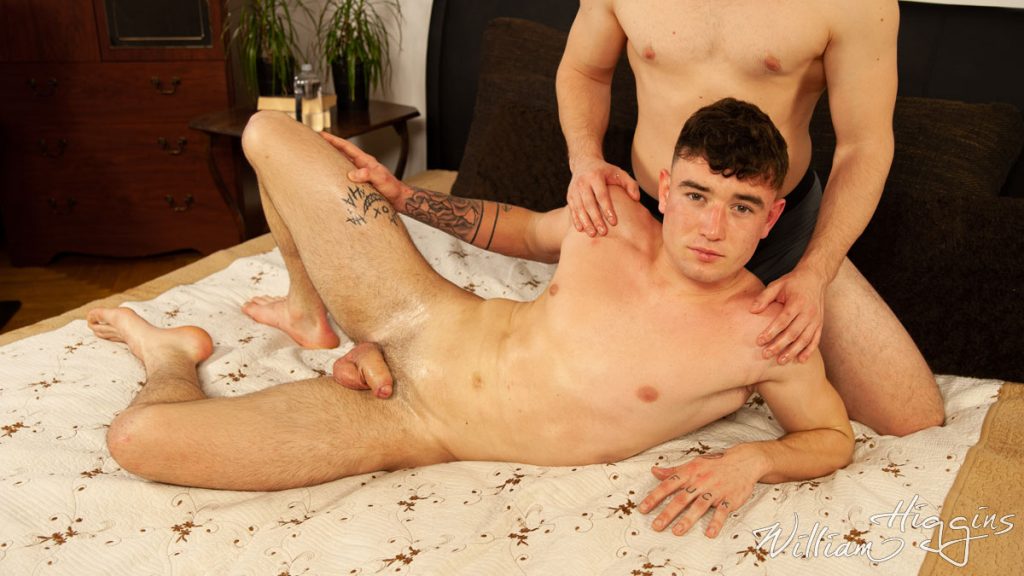 When it comes to all the many jobs I would love to do, giving horny straight guys like Simon Best an incredible edging hand job is at the top of my list.
I know I'm not alone. A lot of guys love showing inexperienced boys like this how much fun they can have with other guys. Just imagine waking up in the morning and going to "work" to perform this job function. Can you imagine actually being paid to be a previously straight guy's first time? Where do I submit that "job" application again? lol
I don't know who the guy is delivering all this slippery pleasure and showing Simon what he's been missing out on, thus far. In any event, those are definitely some experienced hands as you'll see from the photos below. Once he's got that slippery thick uncut dick throbbing and dripping precum he really gets into it.
It's not so surprising that once Simon is bulging and wet in those milking hands his pucker is more open to the idea of being toyed with. He gets exactly that as those digits really start to explore.
---
---
Most of the straight guys at William Higgins receive massages and hand jobs, then end up getting a finger or a toy up their butt. It looks like Simon's not complaining about the attention paid to his virginal hairy hole.
All good things must come to an end. After a good long cock play Simon is laying back and letting that experienced fist do its magic. Those hands are wanking him off, finally making his straight uncut cock splash a hot mess of semen. I think we all know he's gonna be back for more after this.
In my experience, once a straight guy has had his cock milked like Simon, he's discovered how awesome it feels he's gonna want more of the same.
I was right about him coming back for a hand job. Now, I'm gonna make another prediction. It's not gonna be long before he's sucking cock for the first time. Most guys are secretly a little curious about that, aren't they?
Enjoy some more preview pics. Then click here to see him getting that load rubbed out of his meat. Make sure you stick around for whatever Simon Best does next.
In the meantime, I'm gonna go and have a think about my new business plan of giving straight guys free hand jobs. I'm not sure of the economics of it but I'm thinking it won't be hard to find volunteers! 🙂