Sometimes it's the simple things that entertain me. No, that doesn't mean I'm simple, it just means I might be easily pleased. A guy I was fucking told me that once, I don't think he realized he insulted himself. He was a bit simple. So, aaaanyway… I've just been watching this sexy jack off contest with straight guy John Powers competing against Zack Randall, can you guess who shot furthest?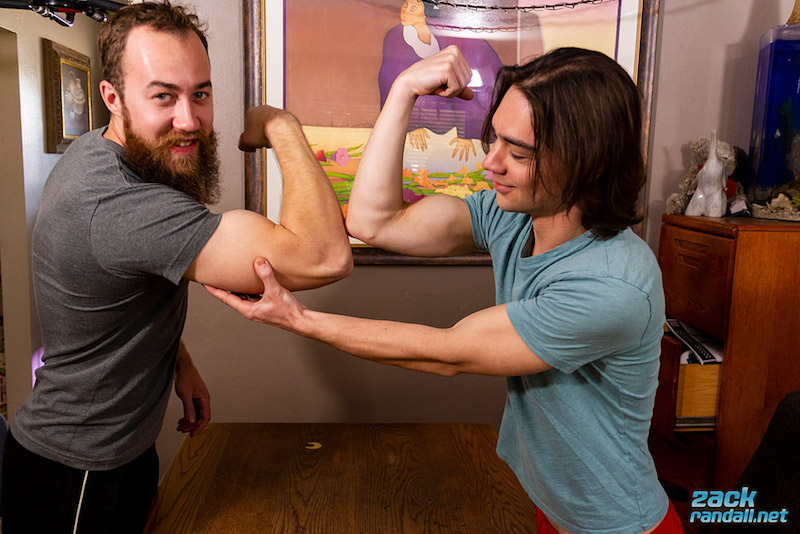 It's not really a fair competition, is it? I mean, fit lad Zack is pretty famous for the cum slinging his uncut cock can deliver after a good long wank, but to be fair John seems capable of squirting off some good rounds too. I guess that might be because he works out so much, in my experience gym-going guys like him can really splooge.
If you need any more excuses to get yourself to the gym more often, bigger cum loads might just do it, right? lol
The set up for this video is pretty fun. Zack has called new performer John in to go over his videos and see how he's settling into the porn business, and one thing leads to another… You hear stories about directors and producers getting in on the action, but Zack is far less "sleazy", he knows not to push it with a big straight dude like John, but then again John isn't at all shy when it comes to getting that big dick out and competing with him.
They start out comparing bods, which John obviously wins, but when it comes to cock size I think Zack has him beat on that.
But which of these guys will splash out the most cum, and the furthest? I'm not gonna tell you who wins that, you'll have to click through to watch it for yourself 🙂
They deliver a lot of really great action there, and I know there's a lot more to come too, but I really hope they carry on with the jerk off contests. A few sites dabbled in that years ago and it was always popular to see straight dudes squirting together so I think there's room for them to run with it.
Let me know what you think of this one in the comments, and don't forget to check out the Zack Randall site review too!