MY RATING: 10/10
Many gay porn sites and studios have been making do this year with compilations and solo videos. Or movies shot from home between partners. That said, not many have embraced the theme of this year the way CockyBoys has in this new release.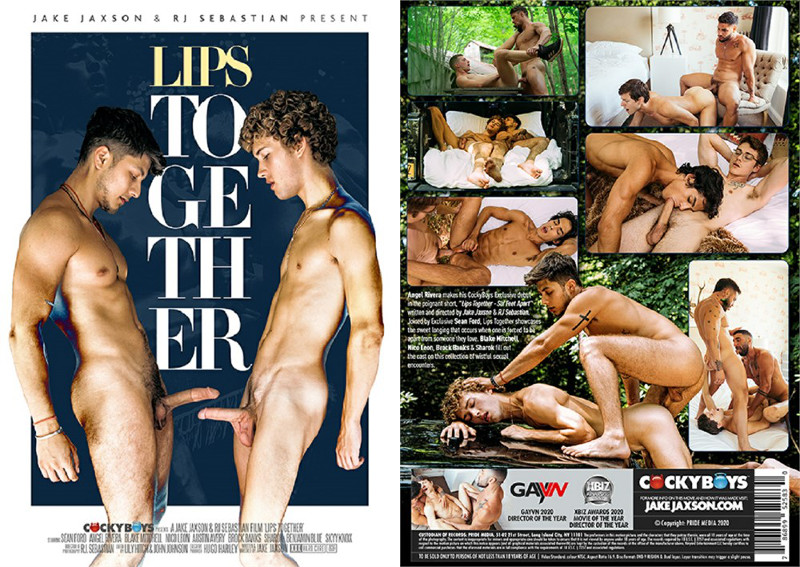 Full cast list: Angel Rivera, Austin Avery, Benjamin Blue, Blake Mitchell, Brock Banks, Nico Leon, Sean Ford, Sharok, Skyy Knox
Studio: CockyBoys
Let's be honest, this year has been so shitty for hooking up. I don't know about you guys but the occasional socially distanced wank in the woods with a dude hasn't been enough for me. I can't wait until we get back to normal and can head out there again for some proper fun.
That's what this collection of scenes in Lips Together is about. Its full title is apparently 'Lips Together, Six Feet Apart.' It's a timely delivery from the studio which seems to have embraced the theme of this year. Conversely, other content providers have made do with random scenes.
As usual, it's gloriously filmed. If you're not familiar with the CockyBoys studio you'll soon discover how they've won so many awards with their clever camera work and their editing. The action is awesome. However, the settings and the way they shoot it make it a little more impressive than your average gay hardcore.
Of course, it's packed with some of the most gorgeous hunks and jocks in the business. Case in point, check out new arrival Angel Rivera making his debut for the studio.
With four hot scenes to keep you jacking it this two hour and twenty minute feature is going to entertain for a while. You're gonna enjoy every one of the offerings in this collection. I would recommend scene three if you're feeling particularly greedy, it's a fucking hot threesome that had me spurting my load far and high! lol
Enjoy some pics from the action but click here for the full movie and get your discount membership using our link. Of the few porn streaming services out there TLA Gay Unlimited is easily the best, click here to read my review and find out why.
Now, if you'll excuse me. I'm going to go and spend some time thinking about all the hard and horny fun I'm gonna be getting the moment I've had my vaccination! lol