MY RATING: 10/10
It's been too long since we had some blue-collar cock action from the rough and hunky men of Dragon Media. Directed by Joe Gage, this movie at TLA Gay Unlimited has been on my shortlist of movies to share. That said, I was inspired to review it this morning after seeing a seriously hot contractor this week.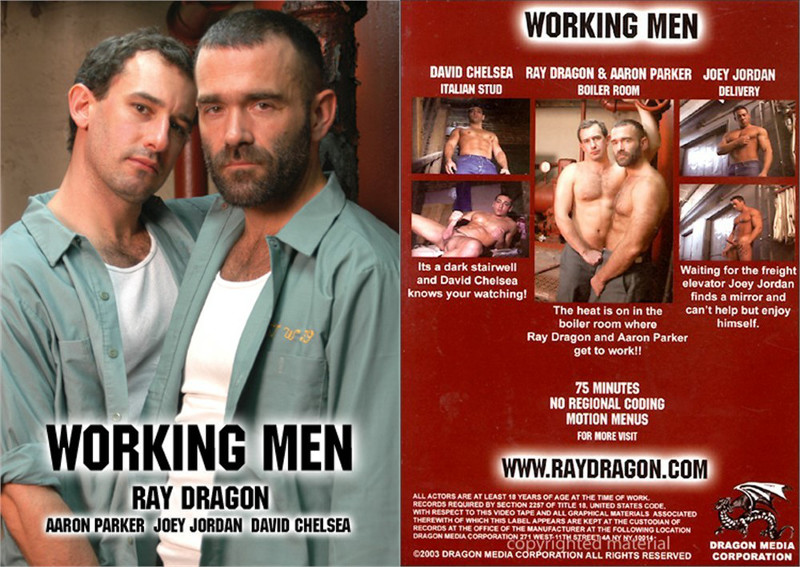 Full cast list: Aaron Parker, David Chelsea, Joey Jordan, Ray Dragon
Studio: Dragon Media
So, I saw a guy I saw this week working on my neighbors work van. He reminded me so much of Ray Dragon in his dirty coveralls that I instantly got a boner. In normal times I probably would have strolled past and attempted to strike up a conversation. Anyway, we all know how things are right now.
Oh well, maybe next time!
You guys know I've long had an appreciation for the super masculine studs of gay porn with big blue-collar cocks. It's no wonder I get off to the rugged men in the Joe Gage hardcore at Dragon Media. Their whole aesthetic is so damn hot! Although the acting is often terrible it sometimes inadvertently adds a little humor to it. And let's be honest, who really pays attention to the script when you have thick cocks on men like Ray Dragon swinging around and dripping precum?
I've posted about several of their hardcore movies already but Working Men is one of the best. If you get off on real horny fucking with real hot blue collar men then you're gonna want to watch the opening scene of this movie.
---
---
Unlike most of their other releases this release only has one hardcore scene. The other two are jack-off sessions in interesting locations. To be honest, I wish they'd added a few more fucks like the first one between insanely hot Ray Dragon and Aaron Parker. Nevertheless, this opening boiler room butt banging between the two is enough to justify watching.
When it comes to blue-collar cock porn you can't go wrong with a man like Ray Dragon. He just drips dirty, masculine, horny sex appeal.
Muscle man David Chelsea is the hunk stroking a hot mess of cum from his cock in a back stairwell for part two, taking a break from work to satisfy his jack off needs. He is followed by huge dude Joey Jordan seeing an opportunity to get totally naked and rub his splooge from his dick while waiting for the freight elevator in scene three.
If you're into blue collar cock as much as I am, and I think a lot of you are, I would definitely recommend clicking here for the full movie. You can read my review of TLA Gay Unlimited by clicking here if you still don't know why it's the best gay porn streaming service in the world.