If you're feeling a little greedy for dick (and I know you are!) this raw gay threesome from Next Door Buddies is going to hit all your buttons!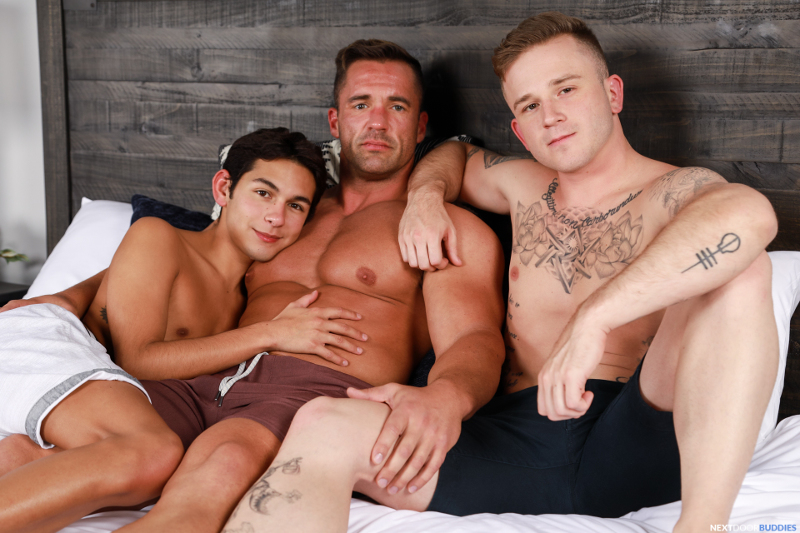 It's not often that something like this happens.
Not only do we have a great raw gay threesome to enjoy, we have three brand new guys to check out for the first time!
It's an awesome mix of performers, too.
Rex Rush is the big muscle daddy, Andrew Delta is the muscled jock dude in his 20s, and Damien Grey is the smooth young twink the two hunks are sharing between them.
Surprisingly, Andrew can't help but get some cock too.
I don't know how hard it is to get three brand new guys into a threesome like this for their debut, but somehow they did it. And the results are interesting.
You can tell they're not all experienced.
Young Damien seems to be the most comfortable, but then again he's getting plenty of cock from his two powerful new friends and it seems he's the kind of boy who loves being stuffed!
---
---
I probably don't need to tell you much about how this is going to go.
Damien is very much their eager plaything even though Andrew gives up his ass too.
He wastes no time stroking and sucking the delicious dicks of his two new friends.
They're seemingly impressed by how greedy and eager the boy is, and they're more than happy to share him.
We get to see Damien being pounded and fed while the two swap ends and thrust their naked penises in and out of his wet holes.
Then it's Andrew's turn to take some pounding.
I can already predict that most of you would love to be a bottom in this raw gay threesome.
So, who is your fave? I think daddy muscle man Rex is probably going to be extremely popular after this.
Check out some pics and click here for the video!
Now you've had a taste, click here to see the full raw gay threesome video!