MT RATING: 10/10
I think we all knew this moment was coming. I can't be the only one who was really looking forward to seeing this hot twink virgin getting his pucker stuffed with raw dick for the first time. Check out some of the pics!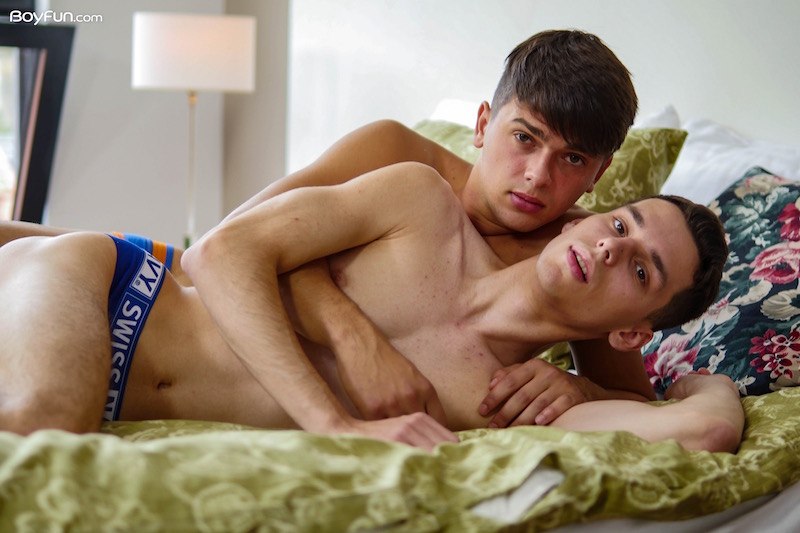 I'm talking about gorgeous boy Finn Harper, of course. I've developed something of a fascination with this boy since he first arrived in gay porn. Finn arrived (as many young performers before him) at BoyFun as a horny straight lad exploring for money.
Needless to say, Finn's gained quite the following of horny members who wanted more. Seriously, how you you not love watching him sucking cock and fucking other boys in the butt.
We watched Finn progress sexually from tentative to greedily slurping boners with obvious lust. His hardcore transition has been equally impressive as we've enjoyed his pounding plenty of cum out youthful costars.
I guess we all knew that he'd eventually let another boy fuck him. Lucky twink Darin Boswell is the one getting the chance to slide his naked cock deep into that super-tight hole for the first time. It doesn't take long for Finn to find out what he's been missing. 🙂
Although Finn gets plenty of ass from his young friend too it's the fucking he's getting that makes his uncut dick spit cream over himself. Soon after Darin is pulling out to blast the boy's balls and taint with his own milky mess.
---
Also check out: Darin Boswell and Beno Eker are a couple of bareback twinks we'd like to take a dip with!
---
I probably don't need to tell you that this video is super hot. After this performance, it looks like Finn is gonna be back for more bottom sessions in future BoyFun updates.
Check out some of the pics and click here for the video. You're gonna want to see this twink virgin experiencing a cock in his hole for the first time!
Damn, I really need to get out there and see if I can find a young man (or two) who've never taken cock before. It's been way too long since I popped a guys cherry. 😉