MY RATING: 9/10
Happy Tuesday guys! I know I tend not to post on Tuesdays but I've been finding myself at a bit of a loose end lately, (ie, I'm wanking a lot more lol) and after enjoying this new William Higgins video with one of my favorite hung daddies fucking the cum out of a hot twink bottom I decided you might want to see it, too.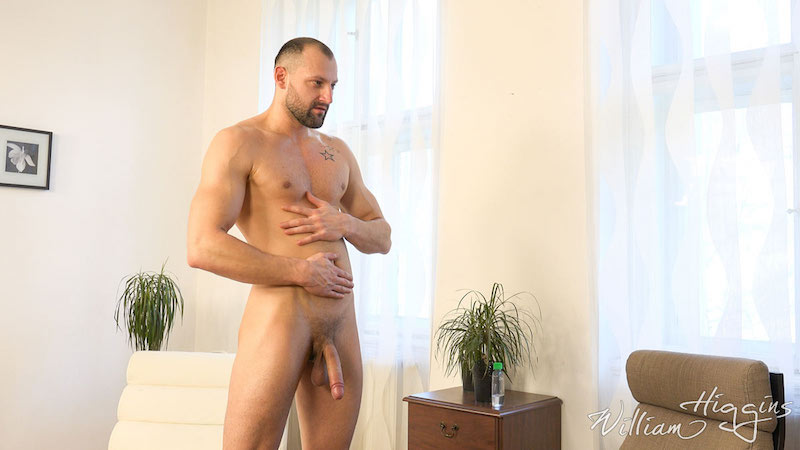 Once again I'm gonna claim that I'm not a size queen. However, I guess it's pointless to keep saying that when I absolutely love to see a hung daddy like Pavel Sora drilling a hot piece of young ass. I think cocks are like cake. Even though we love all cake we can't help but be greedy when we see a big one we could have all to ourselves! 🙂
This big hunk of hotness has been in plenty of videos at William Higgins since he started out as an inexperienced straight man in January 2019. Pavel stated that he had no interest in sex with guys during his first interview. Nevertheless, the same month he was getting a handjob from a dude. Things progress from there as Pavel participates in his first gay orgy. By May he was sucking cock for the first time. It was obvious to members that he was really getting into it.
This time he's been teamed up with young Ivan Zrzek, another formerly straight boy who was also certain that he wasn't interested in guys but he'd had a handjob from a friend and seemed a little more open about it when offered more cash. That worked for him, after his wank debut he was back to get into an orgy with a group of other horny guys and dived right in with the sucking and fucking.
---
Also check out: Hung Daddy Pavel Sora leads the hardcore fun in Wank Party #119, Part 2 RAW from William Higgins!
---
One thing this site makes pretty obvious is that most guys who say they're straight are a little more into cock than they probably thought when they arrived. lol
I really don't need to tell you much about this pairing. It's pretty obvious what you get from the pics. Ivan starts things off with a nice reach around before slurping on Pavel's well-hung cock. Pavel then gobbles greedily on young Ivan's uncut meat. He then fingers the youngster's hole before diving in to fuck the cum out of them both!
Honestly, if you need any more excuses to join the site I don't know what else I could tell you. The sight of this hung daddy slamming that butt should be enough. William Higgins is one of the best sites on the planet if you love horny European guys, straight dudes exploring gay sex. Rest assured, there is plenty of themed hardcore from wrestling to threesomes to orgies for you plot lovers out there.
Click here to watch the trailer!