I think you guys have worked out by now that there are a few guys in gay porn that I absolutely fap myself silly over, and these two boys are in that group. Straight lad Lucas Daniels and gorgeous gay lad Marcus Rivers are two of the cutest, hottest, horniest boys from the Zack Randall site, and they've just had a pounding fuck on video!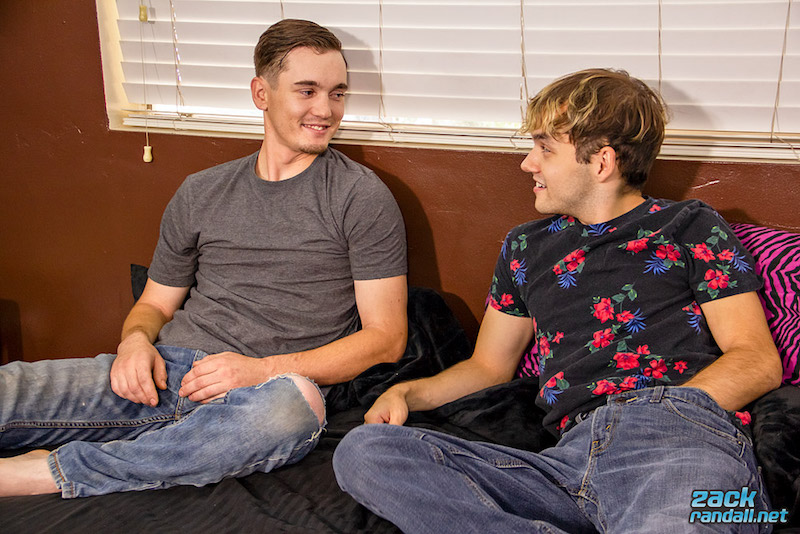 [yasr_overall_rating]
If you've paid any attention you'll know that Lucas started out straight and inexperienced, but he was willing to explore and he's had a whole lot of fun since. If you didn't see the video with him and Zack sharing some awesome cock sucking then you need to check out that post.
Little Marcus has been a firecracker of cock lust since he arrived on the site, looking damn fine every time we see him. He's a fit young thing who knows what he likes, and as he tells his new friend at the start of this video he likes to get fucked real good by hot lads.
Lucas is definitely up for the challenge, getting his delicious dick out for Marcus to suck and stroke and taking the opportunity to return the favor by slurping Marcus' tasty prick in return.
The real action starts when Marcus kneels on the bed and offers that tight hole. No sane guy would be able to look at that and not dive in, although I would be tempted to give it some licking while milking his cock and tugging his full balls first.
Lucas crams his cock into that tight little pucker and delivers on the promise, ramming his new friend hard and deep, pounding him from behind and then getting the boy on his back to make him squirt cum all over himself. With Marcus' dick emptied Lucas is soon pulling out and jacking off, splashing his own straight boy cock cream for his greedy friend.
I knew they would get these gorgeous boys together eventually, and I knew it would be hot too, but I didn't predict that it would make me cum four times! 🙂
Check out some of the pics, read our review of the Zack Randall site if you haven't already, but make sure you click here to watch the video!