Filming porn can't always be easy, but shooting outdoor gay sex scenes is even more challenging in winter!
The weather here in the UK right now has been the same for almost a week. It's white outside, with snow and ice on the ground. It doesn't seem to be going anywhere anytime soon.
I'm a summer boy and not too fond of the cold. That said, I'm okay with snuggling up and being cozy, but going outside in this weather is something I'm not happy about doing.
I cannot imagine getting my cock out in such a climate, but these horny buddies don't have such limitations.
Drew Dixon and Kenzo Alvarez are the horny jocks with uncut cocks enjoying some outdoor gay sex in this new crossover scene from Falcon Studios and Raging Stallion, entitled Winter Skyy Riders, Scene #01. After reviewing this outdoors fuckfest, one thing is for sure. They don't care about frostbite.
---
---
The handsome, hunky young men aren't going to be slowed down by subzero temperatures.
When their hooded dicks need some loving, they'll haul them out and get to work.
Drew is obviously the instigator in this session, but his friend Kenzo isn't complaining.
Maybe I'm just a wimp about things, or perhaps getting your cock sucked by a buddy is enough to warm a dude up, but I would be shivering my tits off if this were me. lol
I guess it might depend on who it's with.
I mean, if Ryan Reynolds wanted me to suck him off in a freezer, I would gladly endure it. lol
Not only do these guys enjoy some good cock sucking, but Kenzo is soon sliding his bareback boner deep into his pal's fleshy hole and warming it up in his ass.
Check out some pics and contemplate whether you'd be down for some outdoor gay sex in such temps.
Remember, you get more than 17,000 videos when you click here to watch these guys banging out those loads together.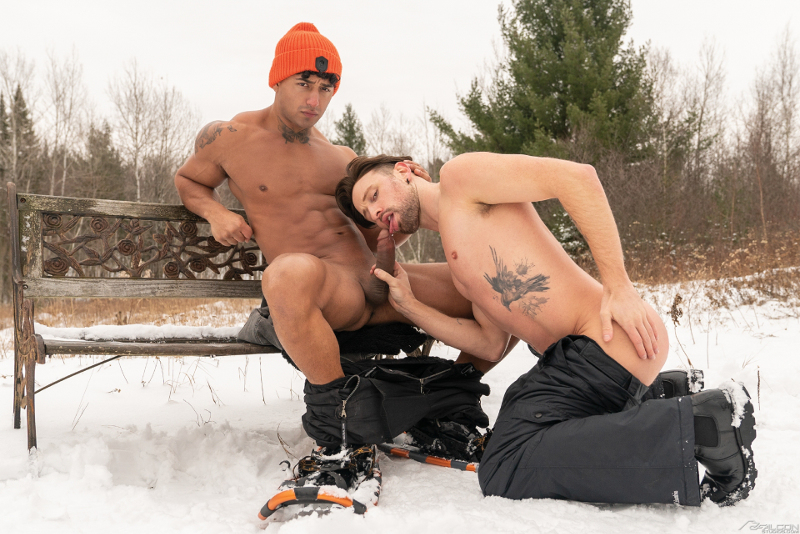 Still here? Join Now and Warm Yourself Up with a Jacking Session!