I love this handsome man, his hard dick, and his bareback daddy hole. You're gonna wish it was you filling his butt in this new Jawked video!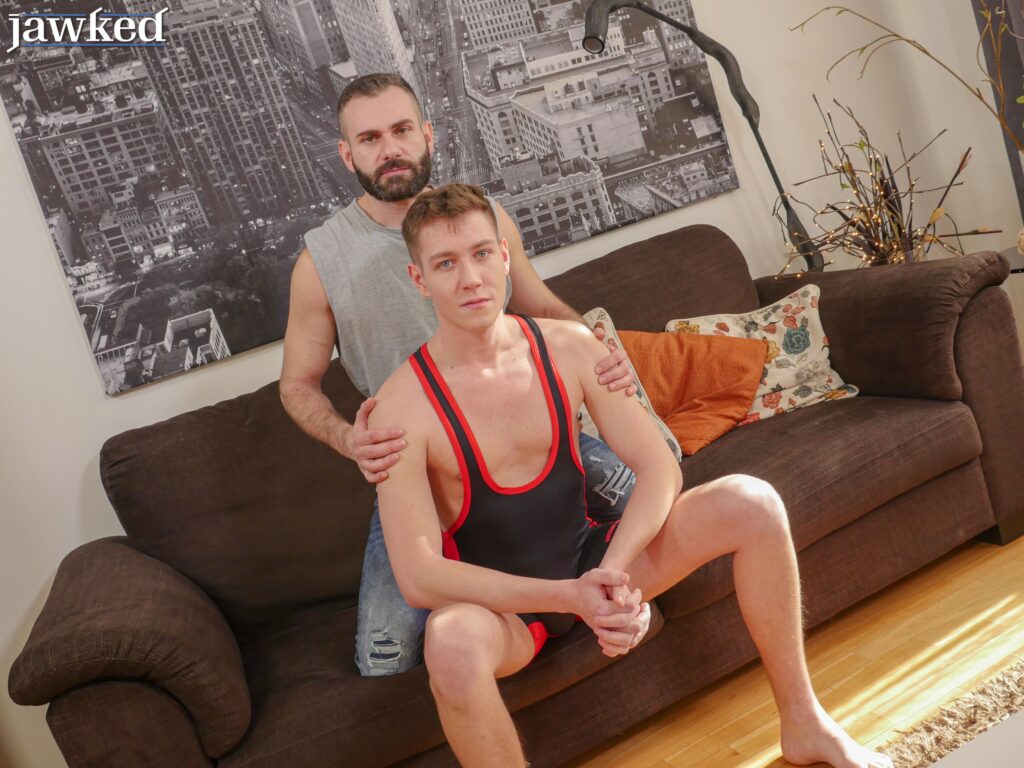 It's time for some more fun from Jawked, which has quickly become one of my fave European sites. I love a lot of European gay porn, but these guys know how to deliver masculine hardcore action with some of the hottest men and jocks.
This time we have the lovely Wolf Rayet playing the part of the greedy bottom, and he has the sexy young Karl Stevens to satisfy him in Rim A Wrestler!
I can't say I fully understand the story of this one.
It seems Karl is a sporty young wrestler who ordered a new singlet online and accidentally bought fetish gear instead. 😉
Much to Daddy Wolf's amusement, his plump and pink little ass is hanging out.
What is less amusing is the big throbbing cock bulge in front of Karl's kinky new wrestling singlet.
Wolf does what we would all do. He's soon groping it and freeing that big uncut meat from the stretchy fabric!
---
---
Karl has an awesome cock.
His meat is so hard, long, pink, and dripping with pleasure while Wolf licks and sucks him.
I could honestly worship that cock for hours.
Thankfully Wolf is more eager to get his bareback daddy hole filled with that naked length. And after Karl returns the sucking favor, the big man is riding it.
See, this is one of the things I love the most about the Jawked site; their masculine dudes love getting dick in their butts.
Usually, you might assume Karl would be the one getting pounded. However, bearded hunk Wolf is the cock-crazed bottom who can't seem to get enough of that hard young dick in his ass.
It's a great video. His bareback daddy hole enjoys every pump and thrust until their loads are gushing, and Wolf is taking a shower of semen all over his hot body.
Enjoy the preview pics, then click here to watch them having a hot time. Now, I'm gonna go and contemplate buying my first singlet. lol
If you still don't know much about this up and cumming gay porn studio, check out my Jawked review. 😉
Okay, you've officially reached the end of this post. You need to click here and watch that bareback daddy hole being ravaged!