With two BelAmi big cocks to play with, the boys in this behind-the-scenes video and photo shoot will have you wanking along with them.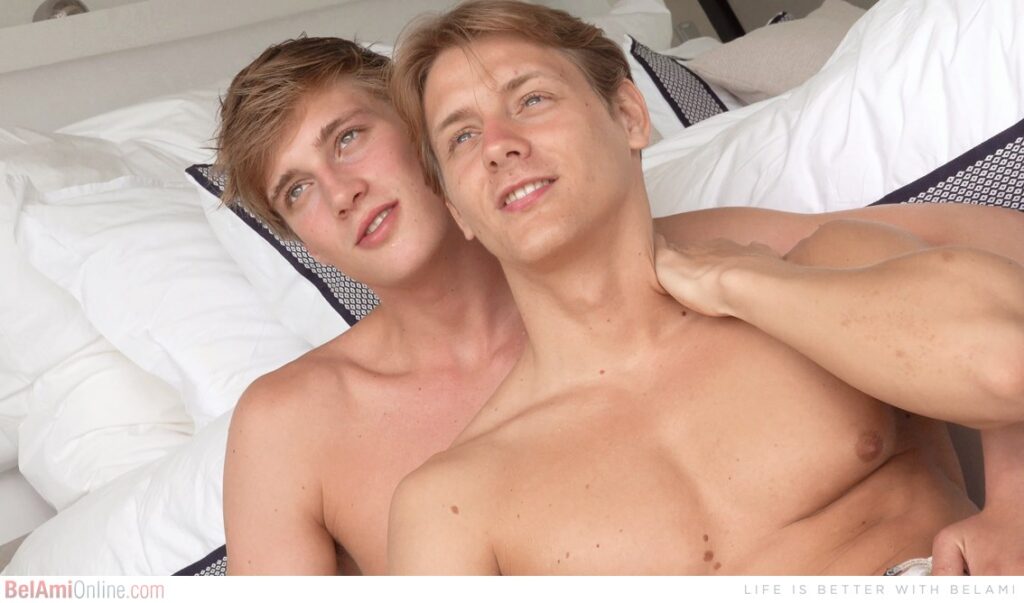 The BelAmi studio does a lot of things well.
They somehow manage to find the most attractive young men for their videos. Not only that, they film their fun in some of the most luxurious locations. They deliver hot solo play sessions, awesome duos, and some of the most incredible threesomes and orgies.
They also create super sexy behind-the-scenes videos like this one, with two big cocks being worshiped and played with.
We're joining blond European jock boys Ashton Montana and Eluan Jeunet for this BelAmi cock play session, and it's super hot to watch.
---
---
Obviously, Eluan has an incredible penis. It's so long, slender, and with a big fat cock head on it. He's also one of the most chilled-out and relaxed guys.
He loves being naked, showing off, and sharing dick play with other boys.
Ashton is a little more reserved, but not by much.
It doesn't take him long to warm up, and with a whole lot of friendly play, some hole showing, dick swinging, posing, and licking, they're ready for the main event.
The whole thing is hot to watch, but the jacking session these guys share is so damn good.
Those two BelAmi big cocks are soon being rubbed and frotted, stroked, and pumped. The guys swap hands and help each other out, their balls bouncing heavy and full while they work their tools.
Ultimately, both boys have splashed some big cum loads over themselves. I'm willing to bet a few of you will have made a mess of your own by that point!
Once again, I would love to move there and become a menial worker for this gay porn studio. I don't care what they need me to do. I'll make coffee or clean up cum. lol
Enjoy some BelAmi big cocks preview pics below. Then click here for the full playful video.
BelAmi Big Cocks Pics