This is definitely a BelAmi solo for all the fans of cum squirting climaxes! He's a new guy with a lot of spooge to splash.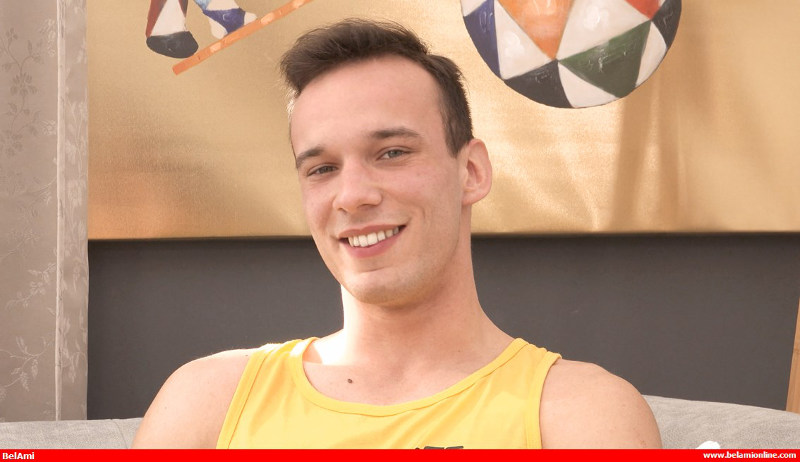 I've always had a bit of a fetish for big cum squirting finishes.
I don't know for sure where it started, but it was probably because one of my buddies years ago was a big splasher.
When we used to jack off over porn magazines, he would really fire off jets of jizz and make a massive mess!
I've met other guys like that since then, it's always fun to see a cock really spewing out a big load.
Benny Evancho is one of those guys who can cum a lot.
This is his first time in front of the camera, and he's ready to deliver a great scene, even though it's pretty quick.
I think he probably prepared himself with a lot of edging before he got to the studio. A wise move!
---
---
He's a student of economics, which might seem boring, but he's obviously not too restrained and timid about things.
It doesn't take him long before that uncut cock is stiff in his hands, and he's showing us how he likes to stroke it.
I have a long list of other things I would like to see him doing, but the way they interviewed him at the start tells me he's gonna be back for more very soon.
I'm gonna guess he's straight, but probably at least a little bit curious.
Most of the guys they find are like that. It makes me wonder why I can't find them for myself! lol
Benny really gets into his jacking. He says he's nervous at the start, but it seems his horniness takes over.
I believe it's evident from the multi-spurt cum squirting he delivers that he really enjoyed showing off and pleasing himself.
Enjoy some of the pics but click here to see him splashing that load.
Remember, you get more than 2,900 other full-length videos to stream or download.
Make sure you leave a comment when you get there. BelAmi will probably bring him back if he's that popular.
We all want to see how much he cums when he's had another cock to play with, right?
Are you still here? Join now to watch more than 2,900 videos!