MY RATING: 9/10
I was going to start going back to the gym this week but apparently my hazmat suit makes people feel "uncomfortable." It's probably a good thing. I wouldn't be able to enjoy a post-workout wank in the sauna wearing it anyway.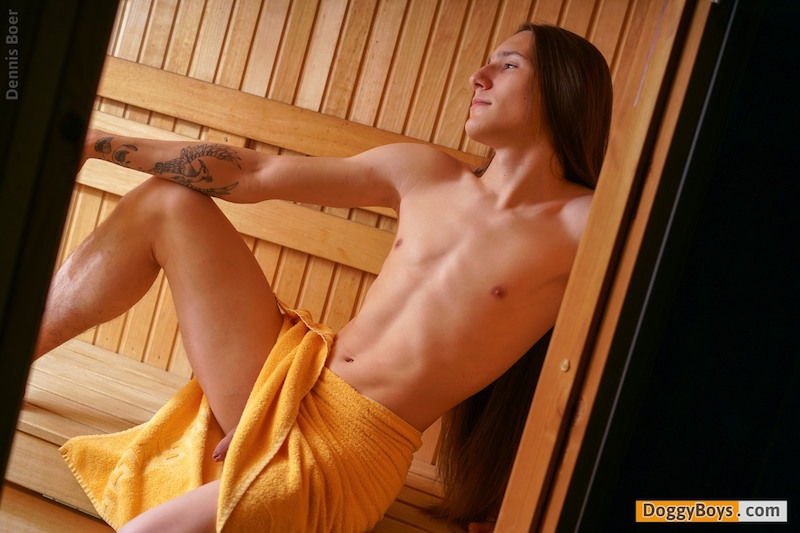 There's a lot I miss about not being able to get to the gym. The cock stroking sessions in the shower and the sauna are a big part of it, I have to admit. Of course, it's better when you have a friend there to share the fun, a workout buddy to blow, or frot dicks with. Perhaps, even enjoying a little solo pleasure or showing off while another curious dude puts on a show. That's better than going home and jerking out a load solo.
Gorgeous boy Dennis Boer is apparently luckier than all of us. He has the sauna completely to himself for his solo stroking session. Luckily, we get to join Dennis and enjoy the show. Watch as he proudly reveals his long uncut cock from his loose towel and starts exploring his smooth twink body.
---
Also check out: Dennis Boer is Back to Empty his Hard Twink Cock!
---
It's a real intense masturbation session. Not at all like the fast and furious cock play experiences you might share with that hot hunk who's just passing time after his workout before his girlfriend comes to pick him up. Do I sound like I'm speaking from experience? Because I am! lol It's really hot to see him fully enjoying himself, taking his time, showing off that snug little pucker. Then playing with his throbbing uncut cock until his cum can't be held back any longer.
I can certainly say without a moment of hesitation that if I walked in there and caught this boy jacking off in the sauna my mouth would be on that hard and wet meat in a second! 🙂
Enjoy some pics and click here for the video. Let me know in the comments if you've gone back to the gym yet (and if you've had any sauna experiences with randoms, too).