I've always loved sports-themed hardcore porn. Be that as it may, I feel like some of the vintage gay sports porn beats a lot of today's releases. Below The Belt is a good example of that.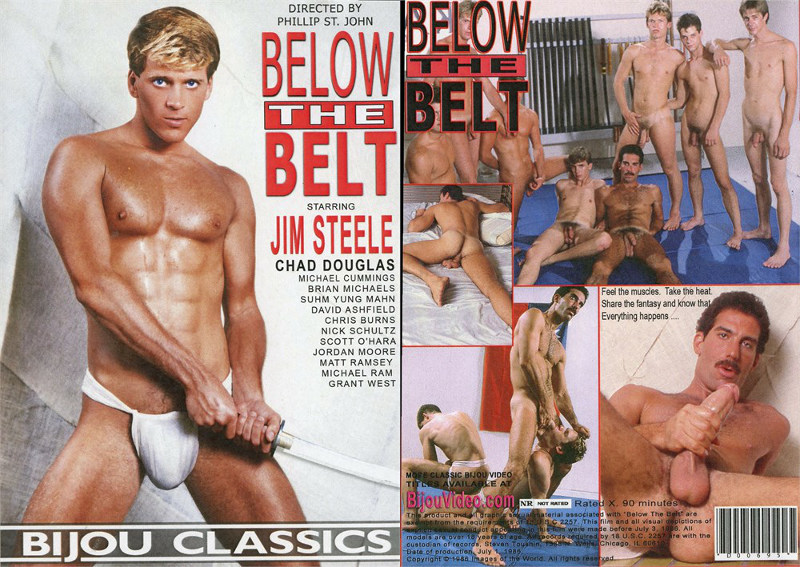 Cast list: Bobby Madison, Brian Thompson, Chad Douglas, Chris Burns, David Ashfield, Grant West, Jim Steele, Matt Ramsey, Michael Cummings, Michael Ram, Nick Shultz, Scott O'Hara, Sum Yung Man
Studio: Bijou Classics
I can't say I've ever done any real surveys or anything, but I feel like a love of sporty environments is a common interest for most gay men.
Maybe I'm wrong, but it seems as though the locker room, showers, and team environments where cocks are out are super horny for a lot of guys.
It's always been the case for me.
In fact, it's basically the only reason I still go to the gym.
It's also why I regularly think about joining a team to play on. Even though I'm as useless as a drunk giraffe on any pitch or court. lol
Sporty porn is awesome, but vintage gay sports porn like this is even hotter.
---
---
This hour and twenty-minute classic transports us right back to the 1980s.
I want to say that it was probably inspired by several Asian-themed movies of the time. You know which ones I mean.
We join a Karate class with a big bunch of guys, mostly young and fit, but led by hairy daddy dude David Ashfield.
Of course, the fun starts in the showers when cocks thicken up and throb and buddies decide to get a little curious.
Needless to say, the vintage gay sports porn just gets crazier and crazier from there.
What starts with a couple of horny jock boys groping dicks and getting it on in the locker room becomes a quite comical low-budget fantasy with lots of stereotypes.
As a fan of vintage gay sports porn of all kinds, I have to say that the whole Karate theme is an unlikely and uncommon one.
Let's be real, it's usually footballers, wrestlers, and swimmers – but I really enjoyed the guys in this one and the fun they have.
There's a little of everything, from the voyeur jacking their big dick to the daddy taking advantage of plenty of hard young cock to the threesomes and orgies with cum splashing all over.
It's hot, it's bareback, it's funny at times and it's definitely going to have you feeling athletic. 🙂
Click here to stream it now, along with thousands of other awesome gay porn movies.
If you still need persuading you can read my TLA Gay Unlimited Review.
Now if you'll excuse me. I need to go and fantasize some more about joining a team of some kind. lol