MY RATING: 10/10
I'm not gonna say some lines in gay porn are ten times hotter than others, but "is that my jock strap?" has to be up there as one of those questions capable of inciting thousands of instant boners around the world.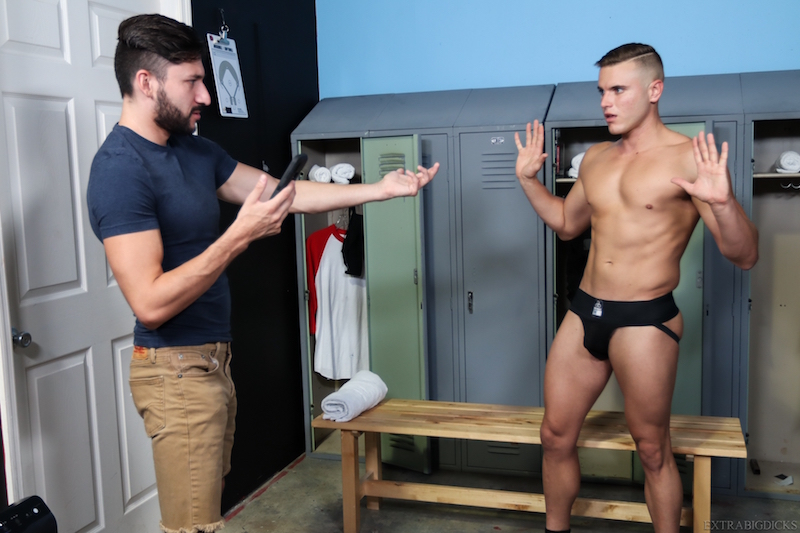 While I would never consider myself a gym rat I like the environment and working out. I go often enough (or at least I did, in the "before times" lol) to be more than a little familiar with catching guys taking selfies in the locker room. Some guys are just posing and and being narcissistic. Others are totally naked and sometimes even hard, seemingly courting attention from other men.
While I've caught many guys jerking off, frotting with other guys and sucking cock, not many guys get down to proper fucking. Especially like we see in videos like this one from Extra Big Dicks. We all know it probably happens, right?
I doubt it happens the way this scene starts, though. It's a very typical porn scenario. Nevertheless, one I think we would all love to enact with the right gym-going dude!
---
Also check out: Alexander Garrett and Rego Bello enjoy a feast of Dick & Ass in a Flip-Fuck at the Glory Hole!
---
Jock boy Giovanni Rosa is caught taking selfies wearing Scott DeMarco's jock strap, a brazen offense if ever there was one. It's okay though. Scott knows an opportunity when he sees it. Within moments he's helping his new buddy out with some big dick to suck.
I know you've probably all got your own locker room sex fantasies. In truth, I could write an entire novel about mine. Rest assured, this one is going to be added to your mental list.
Scott licks out that hole and jabs his big meat inside. He fucks lucky Giovanni bareback right there on the bench. They finish up their "post workout regimen" with a hot mess of splashing cum. This visual should have every one of you joining in and desperate to get back to the gym.
Seriously, I can only imagine that locker room sex scenes like this have become so much more popular now that most of us can't get there.
Click here for the video and be ready to get your sweat on with these guys. Now if you don't mind I need to go and buy some new jock straps for when the gym opens again! 🙂